Welcome to Sea-Ex - Seafood, Fishing, Aquaculture, Marine & Angling Portal
We have made available Banner Advertising Spaces on our VERY POPULAR section of our site - The Industry Contacts by Country Section
The cost for a banner advertisement on the top of the page of your country, linked to your website is just € 400* (currency converter) for 12 months!
If you don't currently have a website, we will give you a one page listing on our site FREE that you can link your banner to.
To secure your space CLICK HERE
*Australian companies, please note that this price is PLUS GST.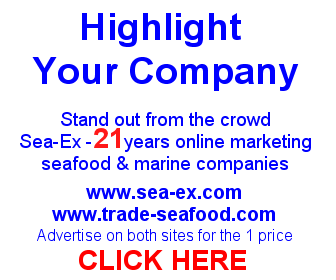 ---
©1996 - 2022 Sea-Ex Australia Home
Any problems regarding this page, please contact webmaster [at] sea-ex.com
Disclaimer | Privacy Policy | Cookie Policy