More Barcelona World Race Articles
Day 102 Caffari and Corbella on the verge of history, ready to finish sixth in the Barcelona World Race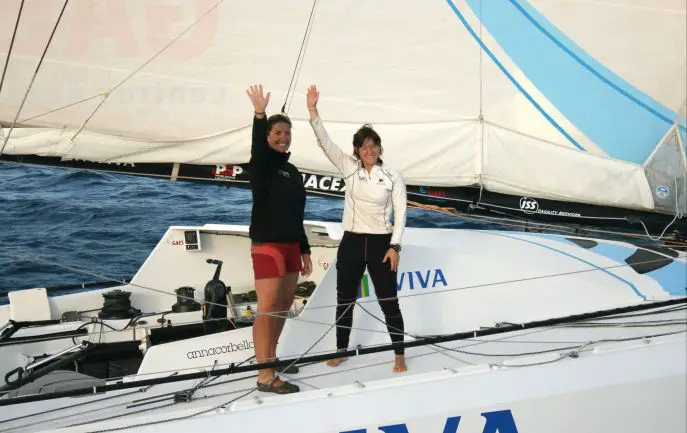 A slow night passing the latitudes of the Balearics, the transitional sticking point that has hampered nearly all of the five Barcelona World Race teams which have already finished, gave way to a fine last full day of racing today for Dee Caffari and Anna Corbella before they make history, expected now early morning on the finish line.
The English-Spanish duo which came together for the first time just over one year ago, enduring a full February winter delivery from Gosport down around a full storm strewn Atlantic system in to the Med to Barcelona.
It was a massive baptism by Biscay for Corbella's first real IMOCA Open 60 experience but tomorrow the Barcelona born and bred co-skipper becomes the first Spanish woman to race non-stop around the world, while Caffari completes a remarkable fourth circumnavigation of the globe.
The British sailor will have sailed twice round the world Westabout, and tomorrow raced twice Eastabout following her sixth place in the solo 2008-9 Vendée Globe. They are the first all-female duo to finish the Barcelona World Race.
The duo are expected back in to Barcelona around 0700-0800hrs Local time (+2hrs UTC).
Follow the arrival streamed live as GAES Centros Auditivos cross the finish line in sixth place from 30 minutes before finish time on www.barcelonaworldrace.org
Quotes
Dee Caffari (GBR) GAES Centros Auditivos: "Sadly for Mediterranean the forecasts are often a bit different from the reality. We do expect that to be the case, but in fact each time it happens it is a bit of a kick in the teeth. So we are doing our best and now we are moving which is a little bit better than what it was like last night, and so I am just hoping that we cover the ground through today enough to get us closer enough so that our overnight float allows us to get in for breakfast.
It is all very positive on board today. We are very tired physically, it has been quite demanding with the sail changes and the manoeuvres. We kind of expected that, so we are trying to rest while we can. But really we are also just enjoying the sailing. The sun is out. The water is flat and if you are going to have a last day's sailing which is going to take a little longer, these are perfect conditions. We have prepared for our arrival, we have washed our hair, and done our hair and stuff, we will be smelling better than anyone would expect.
We have been talking about the finish. I have just been talking with Anna about things which will happen and so on, so in fact the more we talk about it, the more excited we get.
It has been a very positive experience for us both I think. I was very nervous about the two of us being on board and I think that has gone better than both of us expected, and definitely there are strengths and weaknesses on board and we have both worked on them, and a few frustrating moments but we dealt with them all really well.
And with Anna I don't think it has really sunk in to her that she has sailed around the world, and I don't think it will be for a few days, once she has spoken to a few people about it that it really will sink in.
For me it is a mixture of feeling really pleased about our success, a little frustrated because – hindsight is a great thing – thinking well I could have pushed a bit more, I could have done this, I could have done that, but you are tested in different ways each time. I had a boat-building exercise to do this time which I did not have to do last time, so you develop new skills each time. I think that overall I am really pleased. It has hard to be doing that reflective bit until we have finished.
I continue to learn all the time. One thing I am pleased with is my strategy, weather and understanding of making the right decisions has improved a lot. I have made a lot fewer mistakes. It is now about the boat and the people and keeping up the pace, backing off too early, taking it easy for a bit too long, rather than the tactical errors that I made before. I am learning, and getting the confidence to push more each time.
I have worked hard on the weather side, but I made a couple of errors and recognised them straight away which is a definite sign of progress."