More Barcelona World Race Articles
Day 112 True Grit: Determination and Resilience Return a
Magnificent Barcelona World Race Seventh for Hugo Boss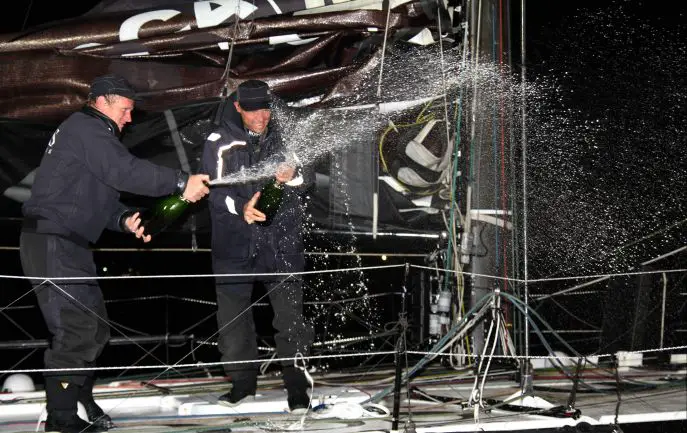 Gritty, hard battling Andy Meiklejohn (NZL) and Wouter Verbraak (NED) on Hugo Boss crossed the finish line during the very early hours of a breezy Barcelona night, breaking the line off the W Hotel at 00 49 23 hrs local time (22 49 23hrs UTC Thursday ) to secure seventh place overall from the field of 14 duos which started the Barcelona World Race on 31st December 2010.
Verbraak said: "It is great to be back. It has been a while. I was meant to step off at the Cape Verde Islands but I had to make the phone call home and say I was going to be 90 days late. So now here we are, it has been a fantastic challenge and I have to thank Andy for letting me in and teaching me a few tricks in the Med before we got out into the Atlantic, it was an amazing trip. We could not have done it without the support of our team."
Hugo Boss' elapsed time for the 25,200 miles course is 111 days 10 hours 49 mins computed to have sailed at a theoretical average of 9,42 knots.
Hugo Bosssailed 29.246 actual miles at an average speed of 10,93 knots.
For the Kiwi-Dutch duo who were only teamed up 24 hours before the start, Verbraak as substitute for Alex Thomson who needed immediate surgery on his appendix with two days to the race start, seventh is an excellent result. They had never sailed alone on the fleet's most powerful IMOCA 60 before starting, and struggled out of the Mediterranean and by the Canary Islands were in 14th place more than 650 miles behind the leaders.
Verbraakexpected to get off Hugo Boss at the Cape Verde Islands to be replaced by Thomson, but the British skipper had to stay home to be with his new born infant son who was diagnosed with a heart problem. And so 100 days later than he should have been, the Dutch co-skipper was reunited with his family on the blustery dockside in Barcelona, while Meiklejohn was reunited with his five months pregnant wife.
The duo stuck to their strategy, learning the boat and gelling as duo but just when they we were getting into the race at the entry to the Southern Ocean a combination of a major repair which left them sailing without a mainsail for four days, effectively saw them lose touch completely with the leading boats, dropping more than 1000 miles to the leaders as a high pressure ridge compounded their losses.
And finally having fought their way up to seventh, the Hugo Boss pair had to stop in the Falkland Islands to make essential sail repairs which cost them eight days.
The Race of Hugo Boss
Cruelly for Alex Thomson (GBR), his second challenge to win the Barcelona World Race was over before it started. Admitted for surgery to remove his appendix less than 48 hours before the start gun, substitute skipper Wouter Verbraak (NED) had to step into Thomson's shoes at the 11th hour.
When he took to the start line alongside Andy Meiklejohn (NZL) - who had prepared for the best part of a year with Thomson and was looking to better Thomson's second place in 2007-8 and had sailed more than 15,000 training miles on the boat - Verbraak had only previously been on board the powerful IMOCA Open 60 for two hours.
Of that time 15 minutes had been spent on deck.
For the duo, who had sailed many times before in the past on various maxi and offshore programmes, the learning curve on Hugo Boss was extremely steep.
And the combination of their inexperience together, the powerful boat which is design optimised for strong winds and reaching conditions(they did not know how best to set up the autopilots, according to Thomson) and the light winds down the Mediterranean to Gibraltar really exacerbated their weaknesses. While the leaders sprinted away the duo were still taking babysteps together: five days after the start they were in 14th, 345 miles behind the leading boat and struggling to get clear of the Mediterranean.
"Recent days have been frustrating and a mix of emotions."Reported Verbraak, who had had to say goodbye to his wife Kristine and six year old son, for what were expected to be just 10-12 days.
Four days later Thomson was declared medically fit to race after tests in the UK and a plan to have him join the boat in the Cabo Verde Islands was accepted.
But the changeover never happened.
Thomson's baby son, who was only born on January 7th, was diagnosed with a heart problem, and the British skipper stayed home to be with his son and partner Kate. It was something of a shock for trained meteorologist Verbraak, a weather router, navigator who had sailed sections of the last Volvo Race on Team Russia and Team Delta Lloyd but who had been hand picked because his meteo and nav skills complemented Meiklejohn's hands-on speed and all round skills.
And Verbraak had to call home and say that he did not now expect to be back for at least another 70 days.
"It really has been 24 hours of conflicting emotions. On the one hand we are both very pleased the decision has been taken and the uncertainty that has been hanging over us is removed, and we are happy to continue together. But on the other hand we know that Alex is having a tough time at home and our thoughts really are with him. We hope everything works out for him and our objective is to finish." Said Meiklejohn at the time.
Verbraak reveals that so sudden was his substitution that he has only Thomson's technical sailing clothing on board to wear, which is at least a size too big!
But progressively they fight back.
A rearguard action, see them initially tussling with Central Lechera Asturiana and FMC past the Canary Islands, 655 miles behind the leaders, and at the Cabo Verdes.
And on 17th January they are the fastest in the fleet and then with Central Lechera Asturiana stopping in Cape Town and, by 26th January on the retirement into Cape Town of Foncia, Hugo Boss is up to ninth.
After making mainsail repairs during which they have no mainsail for four days, they roll into great spell, sending the Juan Kouyoumdjian design close to the speeds expected of it. Fastest of the fleet at times again they start to hunt down Dee Caffari and Anna Corbella on GAES Centros Auditivos, the start of a duel which carries on to Cape Horn.
The high ice gates enforce a high percentage of upwind sailing early in the Indian Ocean, but thereafter Hugo Boss gradually pulls in GAES Centros Auditivos and Meiklejohn and Verbraak pass the female duo on 11th February to move up to eighth place.
Both are quick on the approach to and under Australia, making fast, direct miles, but on 16th February they confirm that they have been missing 1.5 metres of the top of their mainsail mast track since 28th January. They pass very close to the south of Tasmania seeking a solution, but go on to pass Wellington in eighth place.
The passage of Cook Strait, for the Barcelona World Race's only New Zealander, Andy Meiklejohn was also suffused with different and difficult emotions as Hugo Boss traversed in between his native lands immediately after the devastating Christchurch earthquake.
After passing an area where Meiklejohn's mother had grown up, there was the triumph of sailing past Wellington and electing not to stop, of seeing Alex Thomson and Operations Manager Ross Daniel rendezvous, but also the tough Kiwi admitted to a feeling of raw helplessness, being at sea when part of his home country was in trauma and he was so close to them.
No sooner had Hugo Boss emerged from the passage between New Zealand's North and South Islands than Meiklejohn and Verbraak had to deal with the ex tropical cyclone ATU. Their southerly routing took them through some tough conditions, big unruly, disorganised seas and 50-60 knot winds.
The remainder of the Pacific was a mix of strong, fast sailing but with extremely limited outside contact with the world. An electrical charging issue left them running on absolutely minimum power. Different innovative solutions for the faulty fresh water pump even saw their technical team mock up different plumbing ideas at their Gosport, England base to try and present them with a fix.
Their passage of Cape Horn was marked by the deterioration of their sails, a difficult mix of weather conditions and an approach from the south which saw them losing hard won miles to GAES Centros Auditivos. And between the 11th-12th March they passed Cape Horn locked together in a mini-match race only 1.5 miles apart, the two boats which are usually berthed in Gosport reunited at the most rugged outpost of round the world racing.
But one day later Meiklejohn and Verbraak had to take and deal with a decision which was to end their ascent of the leaderboard. Because of the decay of several key sails, not least their mainsail, the duo decided to stop in the Falkland Islands. At first their determination was to make the stop as short as possible and unaided, so as not to incur the 48 hours minimum duration. So they anchored in Adventure Bay in the east of East Falklands Island and set to work between 13th and 15th March on a soul destroying non-stop 36 hours marathon trying to repair the sails themselves. But it became clear that the magnitude and technical requirements were beyond their resources, and so they left and headed to Stanley, the Islands' capital. Having called for help from Doyle Sails New Zealand's representatives Hugo Boss was halted from 16th to 21st March.
After a stopover which through costly in time and distance proved memorable for the warmth of the Islanders' hospitality and their willingness to help, eighth placed Forum Maritim Catala have caught up from being around 2100 miles behind before the first stop, to being just 120 miles behind.
Up the Atlantic the pleasure at having a boat 'at close to 99%' sustains Meiklejohn and Verbraak for many days, especially in the fast reaching conditions up the South American continent when they reel miles away from their pursuers. The north Atlantic offers them few strategic options after they cross the Equator on the same day that Virbac-Paprec 3 win the Barcelona World Race. Upwind for 3000 miles on starboard tack the duo ruminate over endless cups of afternoon tea. Unfortunate timing, for the Hugo Boss duo, sees FMC slash the lead of the British boat as the ride a low pressure system for five days and at Gibraltar there is just 140 miles between seventh and eighth.
But the duo's incredible adventure ends with a highly creditable seventh place, half way up the fleet of 14 starters, a very commendable result for a duo thrown together at the last minute and which were resolutely last for the first weeks of the race.
Quotes
Wouter Verbraak (NED) Hugo Boss:It is great to be back. It has been a while. I was meant to step off at the Cape Verde Islands but I had to make the phone call home and say I was going to be 90 days late. So now here we are, it has been a fantastic challenge and I have to thank Andy for letting me in and teaching me a few tricks in the Med before we got out into the Atlantic, it was an amazing trip. We could not have done it without the support of our team."
Andy Meiklejohn (NZL): It was not easy at the start in the Mediterranean. We were hoping for some light winds to learn the boat but that was a bit extreme. We would have liked to get going and be a bit more competitive, but we worked our way up through the fleet, and there were a lot of challenges after that and I think we dealt with all of those challenges. For both of the first goal was to get around the world and that was what drove us. We wanted to finish the race. We wanted to finish it non stop. And that is why when stopped in the Falklands we tried to fix everything ourselves, that was about the first goal. And then after that it was to just finish the race. Every boat faces challenges and we were no exception.
Wouter Verbraak (NED): "This was a great personal journey, you get to use all of your skills as well as all that the weather and the sea can throw at you. So it is a big character building thing. We have been great as a team. That has struck me, of you want to face these challenges it is better to do it as a team, as two, than alone."
Wouter Verbraak (NED) Hugo Boss:"It was an amazing challenge, without doubt the toughest racing I have done physically and mentally, and what it boiled down to was team work. You cannot do this by yourself. It is much better to be two. It was a great race with Andy.
The race is a really all about managing the ups and downs, like life. Our tough moments were when we really could not race the boat as hard as we wanted to. When we had to stop in the Falklands was a really tough time for us, because our goal was always to make this a non stop race. By Doyle Sails sailmakers came in, fixed up the sails, and the goal after that was really to sail the boat really well to the end and we did that.
The best moment for us was really rounding Cape Horn. After such a tough time in the Southern Ocean and breaking sails, to turn the corner and know we were going back home to our families was an amazing moment. And now, here we are back with our families."
"With the mainsail breaking like it did and being a real race stopper, very early and in a key moment of the race, we were really happy after a while that we had managed to do the repair with virtually no materials on the boat, we had to be very, very creative, things which had not been done before and it is now the strongest part of the mainsail. It never caused any problems, and that shows if you think well you don't just fix things but you improve things. That was before Cape of Good Hope, and so to sail in the south with a repair like that is an amazing thing on its own. The generator repair just proved how you have to be on top of these things. If you don't have energy you are out of the race. We had to work really hard to fix that and continue racing, and Andy did an outstanding job there. We managed it."
"As a navigator I was a real specialist before. Now having done this I have seen a lot of other sides of myself as a sailor. It took me back to my dinghy sailing days, just the pleasure or tuning a boat perfectly and steering down those big waves in the Southern Ocean, so it is definitely something I am keen to do more of, and mainly to use more of the overall big picture that you get sailing these boats double handed. And so absolutely it was also be great to do this with a full crew.
Andy Meiklejohn (NZL):"The southern ocean is what you do these things for. It took us a bit longer than we hoped for to get there. But it was exciting, it was exhilarating. It was great sailing. The second half of it we were behind a system and that made for some cold, windy sailing, big seas, ice on the rig, ice on the deck, snowstorms. Those are the stories which you come back with which you don't get anywhere else. That is probably the highlight, the tough times in the south.
The big goal really was to learn about the boat for the Vendée Globe and that was Alex's goal from the beginning. And that was what I was there for and as a team we have worked through this problem. It is a very physical boat to sail and now we have some ideas how to make it easier, and making the boat even faster."
And highlights from the race:
Announced as substitute skipperWouter Verbraak, said: "The Barcelona World Race was a goal of mine, so I'm looking forward to this amazing opportunity to sail with long-time friend Andy Meiklejohn as Alex's substitute until he can join the race.
"The HUGO BOSS yacht is great to sail and Andy and I compliment each other well on board. The preparation for the race by the team has been amazing so we're well equipped for the task ahead."
Andy Meiklejohn, after the start: "It has been a tough week with Alex's sudden illness, but having Wouter as the substitute skipper is the best possible solution to the situation. Having sailed together before we have a strong bond, which will help us overcome the initial challenge. We're fully focused on the task ahead and look forward to Alex stepping on board the HUGO BOSS boat as soon as he's fit to sail."
Wouter Verbraak....on team spirit evident after 48 hours racing
" We have been good at cheering each other up. This is a team game and you have to make use of your partner. I think one thing in this race just now is to remind each other of the extreme length of the race.
This boat was designed, built and developed to reach its potential in reaching in stronger winds in the major types of weather systems all around the globe. We always knew this is the light winds part of the race and the boat is not liking it, so we remind each other of that and keep the course distance clear in our heads, that is very important.
There is not much positive about being behind. But the tradewinds south of the Canaries are well established and we have options there and from Gibraltar to the Canaries there are two options.
The first 48 hours were tough. There were a lot of corners, changes and transitions. And then the last one and a half days have been hand steering, now we are trucking under pilot, so the routine is to make sure everything is ready for the stronger winds outside.
Wouter races on round the world: 14th Jan
From on board the boat, Wouter Verbraak reported to audio conference
"There have been 24 hours of mixed emotions. On the one hand we are very happy that the decision has been made. We are very happy that we can go on, but at same time we can see that Alex is going through a very tough time at home, and so our thoughts are with him. And we hope that it is all resolved for the best.

"We have discussed this a lot. We always had the focus on Alex joining the boat in Cape Verde. We have had to make a mental switch, and I have had to inform my family that I won't be home but will probably be home in another 70 days. So it is all a bit surreal really."

"We got the message from our team yesterday around midday. And at that stage it came as a bit of a surprise to us. We have been taking this whole trip so far just living in the moment and doing the best we can, but we said ' well actually this has been working quite well, let us continue doing what we have been doing, and let us concentrate on being fast to the equator, and try to catch up with the group ahead of us."
Andy Meiklejohn26th Jan (sail repair time) "And true to it all, the jobs are finished, we share a cup of tea, look at the weather that shows wind is coming. We know we have speed and skill, we know we have a dedicated and strong team willing us along from the shore, and our friends and families supporting us all the way."
Wouter Verbraak: "When Andy gets up he proves himself again to be the best man you can have around you when things are tough. Somehow he has wrestled up the energy to make us each dinner! Exhausted, I sit myself down on the floor in the pod. I am dripping wet, but I don't care. Gratefully I scoop in spoon after spoon of the best dinner you will ever have, and then fall immediately asleep again."
Andy Meiklejohn: on not stopping at Wellington : "This race has long been one of my ambitions and sailing towards Wellington and God's own country has to be a highlight for me. I will be passing my mother's birthplace and look forward to seeing some friends and family cheer me through."

Today however, despite being unable to fix the damaged track, the skippers have made the decision to carry on through the Strait without stopping.: "We know that we are currently disadvantaged without the ability to race under full sail, however we have weighed that up against the penalty for stopping. It's a tough call to make but we have decided to continue in the hope that we can make the repair later. Each day in the competition brings new challenges, and with boats stopping and positions changing daily, anything can happen still."
Andy Meiklejohn at Cook Strait
"......So it's with real sadness that I sail up cook strait, in sight of home, its hard to feel excited when there are so many people feeling so much pain. Its great to celebrate what we do and getting to the halfway stage is an achievement in itself but it pales in comparison to what happens in the real world. It's a real mix of emotions that's hard to contain and harder to put down in words. Kiwi's are brought up to be hard to tragedy and sadness but sometimes it doesn't feel right, sometimes there's a bigger picture.
Christchurch, our thoughts are with you. Look after each other, give those you don't know a hug or a helping hand, it's with that bond that you will once again pull through and, like the phoenix, rise again from the ashes.
I'll be wearing a black arm band for you as I sail past New Zealand and will be thinking of you all the way."
11th March after Cape Horn
Wouter Verbraak:" Andy and I myself are in good shape. One thing that has been really strong on our boat is that we're a great team, we're very balanced between ourselves and we have complementary skills that we learn from each other. And so we're good in that sense, and I think that's going to be a player in the way up the Atlantic.

[Fuel] 'The fuel situation is not that great, so we've had generator problems where a coolant part of the generator has stopped working. This happened well before New Zealand, and thanks to the support and creativity of our shore crew we have managed to find a solution using another part on the boat and plumbing that in, which wasn't straightforward but we managed to do it. But that was a big up, and means we don't have to stop for fuel, but we do have strict strict rations so unfortunately we haven't been able to go into the videoconference, which is big shame but it's good to be talking now.
[Rounding Horn] 'I was never meant to go past the Cape Verde island, here I am Cape Hor! Normally there would be a bottle of strong liquor on the boat, but I think on this occasion there will be a lot of candy, maybe an extra delve into the supplies of chocolate!"
16 March Falklands

Wouter VerbraakExhausted and gutted, we have to face facts: we don't have enough materials to make seaworthy sail repairs - technical stop tomorrow
Difficult things take a long tim to solve,impossible things take a while longer! We R NOT racing-still working on repairs!Doing our v.best!

Wouter Verbraak: Over the last 75 days we have been fighting for every mile, and giving it our everything even when things looked very bleak and conditions were difficult, and so we are now overwhelmed with a feeling of unfairness that it was impossible to achieve the one objective we have held very high throughout the race: to finish without a technical stop.
Today we have to face facts and go back to basics: we are not racing with light winds in the Mediterranean, ahead of us are 6000 nm through the Atlantic with already several strong low pressure systems forecasted to be on our way. It comes down to good seamanship, we have to do a proper job to make sure we are in good shape for the rest of the journey. This is not child play.
Port Stanley, the capital of the Falkland Islands is only 50 miles away, but we will have to stay out for tonight as winds are too strong for a safe approach. Tomorrow afternoon winds are forecasted to drop, and through our support team, we have local guys ready to help us in. We are looking forward to a shave, dry warm bed and a beer!
So recover and catching up with sleep until then, we so desperately need it! Suppress the thoughts of what could have been, the disappointment, and jet another hurdle on our way. Focus on making this stop as efficient as possible. Not just fix and repair, but improve and set ourselves up for a good run to the finish in the Barcelona World Race. Keep focusing on our values of precision and perfection, finding pride in every job we do, being creative at finding new faster ways, and work as a team, because that is our best strength!
22nd March Leaving Falklands
Wouter Verbraak: "What we also didn't count on was the help of the locals, most of whom just happened to walk down the dock for a look and ask if they could help! We had Shane and Bobby the Tow boat drivers from FIC turning up at all hours to ferry us to the boat, tow us to a mooring or back again, Chris from Town taxi's gave up two nights work to flake sails, Peter from the FIDF (Falkland Islands Defense Force) gave us the use of their Hall, 30m x 14m which meant we could unroll every sail and work efficiently. Diane Freeman rented us her sewing machine which was in-valuable and Jenny, known to everyone as "Mother" put us up in her house for the first two nights while there were no hotel rooms.
These guys live on a barren flatland where they are born with the sea in their blood. Their usual work is servicing the fishing fleets who run the local quota, the Oil exploration vessels and the Antarctic research vessels. Ours was somewhat of a novelty! Their normal visitor has been Graham Dalton with his previous Velux entries and the odd Vendee competitor trying to find shelter to effect repairs and continue racing. It now seems that with the increase in bureaucracy in Ushuaia that Port Stanley is your most realistic choice for stopping in these round the world races.