More Barcelona World Race Articles
Day 95 Highlights of MAPFRE's press conference (Iker Martínez and Xabi Fernández)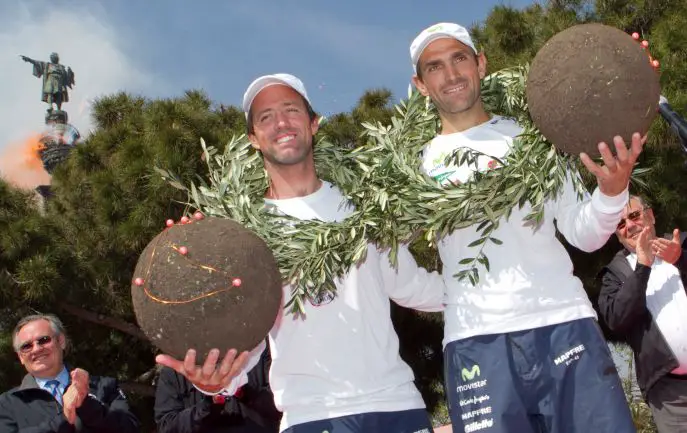 They were frank, philosophical and seemingly fearless when it comes to looking back at their race and into the future. Iker and Xabi may have been fast around the Barcelona World Race course to finish second, but they were not going to be hussled into announcing any decisions about their participation in either the next Olympics or the next Volvo Ocean Race, or neither.
But, by the way Iker spoke passionately about their analysis of their race and what they would need to do to win, it might be a fair bet to the Spanish icons back on the start line to a Barcelona World Race in the future.
The duo were running only on adrenalin when they crossed the finish line in front of the W-Hotel. Having rationed their food since Cape Horn because of a spoiled batch of freeze-dried, the pair arrived, visibly shrunken their usually athletic, muscular frames. Neither did they have any diesel left.
Q. You are famous for your quote that you'd 'rather come fourth or fifth having sailed non-stop than first having stopped'?
Iker Martinez:"First of all I want to say thank you, this welcome has been comparable to any we had when we won Olympic medals."
"That sentence was the consequence of discussions between Xabi and myself. I don't know whether it was Xabi or me who said it, but anyway what I meant was that is the spirit with which we went into this race. We didn't participate to win – of course if we had the opportunity we would, we'd love to win – but what we wanted to do is finish the round the world race. Both Xabi and myself wanted to go around the world, we've been in the Volvo. In the end this race had some great sailors coming here, it is a helluva race!
"For Xabi and myself who've been sailing together in the 49er, it's always the same, so to be able to do this together is a real treat. Imagine that they ask Raphael Nadal in 10 years time if there's something different related to the sport he's playing, we're very lucky! So we wanted to do it without any stopover, and for us this was very important. So that's what we did. And we're very glad, very happy. For us this is like having won the race. To finish second is wonderful."
Q. Any regrets?
Iker Martinez:"No nothing. Before the race the only thing we didn't like is that we couldn't prepare as well as we would have wanted to. First we like to prepare all our races at 100 per cent, but we've been sailing together for 10-12 years, and we gave it everything, the boat is great. Besides, what I don't do Xabi does and what he doesn't do I do, and with such a great result, I can't regret anything. Plus we have enjoyed it thoroughly, it was a bit long this last week without food, but the previous 80 days were really flying and it was great fun."
Q. What's next, another Volvo or Olympics.....or nothing?!
Iker Martinez: "If we had to make the decision today we would stop sailing, so better wait until after we've eaten a great steak! We have always postponed making these important decisions, because we need time and we have to think about it. We are trying to understand what is the best for us in our next position. So we're going to take some time, and we'll make it public as soon as we decide. We'll talk about it in a few days time."
Q. What would you have needed to win?
Iker Martinez: "What we needed is to be well-prepared, a lot of experience, and of course we've learnt a lot of things. On a boat with only two people you really learn a lot, and the next Barcelona World Racethings will surely be different! But after this great result, we've learnt to prepare ourselves now. Of course we had to rush our preparations, and although we're generally prepared, we should be far better prepared specifically for this race. We try to get into the first position, of course reality will tell us what is possible next time but we have some great people. We are not going to race just to finish, we are going to race to win."
"It's obvious that next time the Spanish participants have to be far more demanding of themselves, so next time we have to be second for sure, third, fourth etc and maybe first. But we have to be aware that it's a long way to go. Virbac-Paprec 3sailed six days less than we did, six days is like seven per cent faster than we were, and besides the fact that they benefitted that they stopped, if you take into account that seven percent advantage… Well, I think three or four percent was already there because we have learned a lot, especially in St Helena and the Med, but we still need this additional three or four percent and it has to come from the machine – we need to have a faster boat – and I think we have the experience. Maybe the others need a higher percentage. And then there is another point which is weather forecasting, routing, all the digital calculations. It's like in the Olympic Games, the one who has more information has more possibilities to win. I'm sure onVirbac-Paprec 3both sailors have five times more information than ourselves, so their decision making in the end was better than ours. So that's what we have to do."
"Next time we need a Spanish boat to win the race. This is a very, very difficult objective but I would like to see my colleagues and myself in this position."
Q. When you were within 8 miles of Virbac-Paprec 3, did you think you could win the race?
Iker Martinez:"That was the closest we were to there, out of New Zealandwe had very favourable conditions and a bit more wind than them and got very close to them. But we also realized that we could struggle to get to first position, but of course having seen that they had to stop twice maybe our boat was more reliable. The whole of the Pacific was very tough because we went at top speed and our only chance was that they would break something, because in the Atlantic it was favourable for them. You never know, even if it is only 1 of a 1,000 possibilities, maybe they hit a rock, or get attacked by pirates or sink or something!"

Q.Going down the Atlantic, some boats went west towards Brasil and some went east, and you continued on your own, then changed your tactics, why?
Iker Martinez:"This was one of the key moments in the race. Before leaving we wanted to get closer to Brazil, based on the short experience that we had and knowledge we had, so we went there to go down to Brazil. But it's true that then you see different routings and different possibilities, and the last routing was telling us that we would lose one day with the group of Estrella Dammand Groupe Bel, so we couldn't be sure of our choice. So we couldn't be sure of our choice, and we changed eastwards – and then Fonciawas there. Maybe if we had continued with our first route maybe we would have got to South Africa a day earlier, but you have to believe the routing and the computer or you have to decide.
"The truth is it was a mistake, but you can only see everything with hindsight. I was scared, and we made a very quick decision, but we learnt a lot. It was a counter decision that was made too quickly, it's very complicated and you're playing roulette. Michel Desjoyeauxis the best strategist in today's world but he missed it, he went to the south instead of going westwards. We've learnt a lot but you have to pay the toll of making mistakes, and that's that three or four percent that we have to improve."
ON MICHEL DESJOYEAUX
Iker Martinez:"Talking of Michel, he is a great guy – charming, he has helped us a great deal. The collaboration for us has been extremely rewarding and we want to thank him and all of his people for all their support. They're great professionals, and we've made new friends there. It's incredible."
ON PRE START STRESS….."we went round nearly every petrol station in Barcelona"
Iker Martinez:"For you to have an idea of how are race went before the start, one week before the start of the race we had the whole boat in parts with the engine outside of the boat, disassembled, electronics etc, we had lots of media interviews, and at 12 midnight we had a third shift starting and it was terrible, terrible. We did not sleep, every night we had to dismantle the engine, the electricals, we bought a new engine and had to do everything at night, and once we had finished the day we still had to fix with the engine. . Christmas and New Year in Barcelona we were trying to get a distributor belt and had to go to every petrol station in the city just about. We had to change everything and we don't know about mechanics. It was a great learning curve. So the race was on for ten days before the race started.
But then if we had had an engine problem at sea we would have been able to change the alternator, to change any engine part and that is what we like about this kind of races. It was a great effort from the beginning.
We have eight guys working on the boat and they have helped us so much to be here today."
ON MISSING FAMILY…..and their support….
Xabi Fernandez: "Ninety three days without having to make the bed is OK. I had to cook more than at home, but there were no fights, but of course you miss it and with such small babies, three months is a lot. But our partners and family help us. It is tough and you think you can't stand it any more."
Iker Martinez:"The babies grew up a lot and we missed them. I saw my son and he did not even recognise me. I feel guilty for the sacrifice they make but they also contribute to our success. They suffer a lot, Barbara and Larraitz, friends, family and parents always help. The whole family has been supportive and instead of telling us how tough it is for them, they encourage you, say I'll go and get the engine." So we are very lucky.
ON HEALTH AND FITNESS
Xabi Fernandez:"We were very lucky, one of the important points is our physical preparation. For us it is relatively easy to be in good shape. For such a long race it is very worthwhile. We did not even open the medical kit. You suffer a bit for your hands, pain but not because we were sick, not like the girl off Mirabaud. We had no back problems, so it is clear we are good shape."