More Barcelona World Race Articles
Day 103 History Made For Two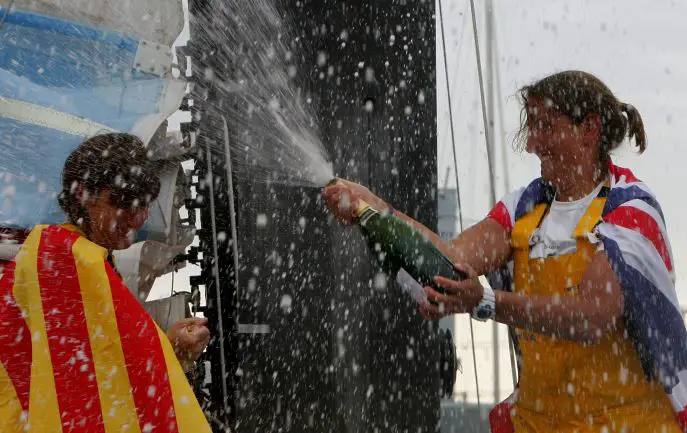 Unstoppable, unshakable duo Dee Caffari and Anna Corbella sailed into the record books this morning when their Owen Clarke designed IMOCA Open 60 GAES Centros Auditivos broke the finish line of the Barcelona World Race in sixth place, stopping the clock at 07.17.18hrs UTC for an elapsed time of 102 days, 19 hours, 17 minutes and 18 seconds.
They were totally united in their joy as they crossed the finish line on the bow of Caffari's boat which had already taken her once around the world in 2008-9.
The morning was chill with dark grey clouds hanging low over the Barcelona skyline as the GAES Chicas sailed their final miles upwind, but their smiles radiated their sheer happiness from several miles before the line: "We were unable to sleep last night because of the nerves and emotions." Confessed Anna Corbella this morning, jubilant to have completed the Barcelona World Race.
Caffari,who has more experience of such race and record finishes, was nonetheless rendered almost speechless by the warmth of the welcome offered her by Corbella's home city.
Corbella becomes the first Spanish woman ever to sail and race non stop around the world, while the unstoppable Caffari maintains her remarkable record in the extreme discipline of short-handed and solo ocean racing, by completing her fourth circumnavigation since she first went all the way around the globe in 2004-5. No other sailor in the world has sailed around the world more often in the last six years!
Dee Caffari extends her world record to become the only woman ever to have completed four circumnavigations, adding a second non-stop eastabouts racing passage to her sixth place in the epic 2008-9 Vendée Globe. And she returns to Barcelona a much more balanced individual having sailed twice westabouts, upwind against the prevailing winds and current, and now twice ' the right way' eastbouts – Cape of Good Hope to Cape Leeuwin to Cape Horn and back to Barcelona. And Caffari has her sights absolutely set on a fifth, as she targets the 2012-13 Vendée Globe.
On completing the Barcelona World Race, Dee commented: "I'm very happy and very proud of what we achieved. Four boats didn't make it and we did make it, and we did it non-stop which is what we wanted to do. And we had other challenges to overcome, and we did all of that. I think overall performance-wise we've got to be happy, we've achieved something that's quite special and we can't forget that not everybody gets to sail around the world non-stop. But it's still in me, I've still got to get a top five place!"
The vastly experienced Caffari paired up with Corbella a little over a year ago on a fast track programme which was designed to step the Catalan former Olympic 470 dinghy aspirant turned Mini sailor up to complete a full racing circumnavigation on this race.
The duo's training programme went in at the deep end, dealing with one of the biggest Atlantic storms of winter 2010, took in several passages back and forth from Barcelona to England, as well as last summer's Vuelta España a Vela round Spain race. But they had formed a solid bond well before this race started and together they have sailed a solid, well considered race which showed Caffari's increased confidence in her reliable boat since her Vendée Globe, and often proved that the duo could match many of the duos who finished above them.
Anna Corbella spoke of their partnership, saying "We really developed a really special relationship. I thought at the beginning that living together was going to be the most difficult experience in this sailing round the world. But you know, you haven't got any other chance, so you depend on each other, you have to help each other, and that develops a very special relationship, and in fact I was surprised. We had a very, very good time, no arguments, same objectives, always pursuing the same goal, so it was great."
They were slowed in the return up the Atlantic by having to make a composite repair to a forward ring frame which forms part of the forward ballast tank, but still had pulled back 550 miles on the fourth placed duo in their early part of the Atlantic.
Unfortunately for Corbella and Caffari a longstanding duel since the entry to the South Atlantic with rivals on Hugo Boss, Andy Meiklejohn and Wouter Verbraak, was finally terminated when the Kiwi-Dutch duo had to divert into the Falkland Islands to repair their damaged sails, but not until after an incredible match race passage around Cape Horn where the two boats which are usually domiciled in the same English marina, rounded the rugged Cape together.
Ironically the duel reprised a Vendée Globe tussle over the same stretch of the course between Caffari and Brian Thompson sailing a previous incarnation of the powerful Juan Kouyoumdjian designed Hugo Boss. (ex Pindar)
The duo become the fourth pair to complete the race non-stop, retaining Caffari's excellent record for great boat preparation and reliability.
Since her 2004-5 Global Challenge race, Caffari's record has been incredible especially considering she made a quick transition to the IMOCA Open 60 only in 2007, a complete culture change from her 178 days solo against the winds and current record of 2005-6.
GAES Centros Auditivos crossed the finish line to complete their Barcelona World Race at 07.17.18hrs UTC on Monday April 13th. Their elapsed time for the course was 102 days, 19 hours, 17 minutes and 18 seconds, an average speed for the course of 10.219kts for the 25,200 miles theoretical course. They sailed an actual course of 28,653 miles, at an average 11.61 knots.
Quotes
From the boat after finishing:
Dee Caffari:"I'm very good. Very happy and very proud of what we've achieved, it's great to be in Barcelona with a welcome like this so early in the morning, I'm really impressed. It's been a long time but it feels great to be finished. We were ready for the finish - we were ready for some fresh food and a hot shower.
"Each race is really different, and they're all special in their own way. To have raced two-handed is very different, and means that you've got someone to enjoy it with the whole time, and this finish was just spectacular for both of us so it's been really nice.
"The start was awesome for us, we had a great start and that stuck in my mind – I remember this beach very well as well motored down. And obviously finishing with this reception is incredible after so long at sea. But there's been a lot of really good points – a few bad points, but we've smiled through all of it and we've had a lot of fun.
"I had a request from Anna that she wanted to round Cape Horn while she could still see it so she could get a photo and we just scraped in before it got too dark, and at that time we actually crossed gybes with Hugo Boss and overtook them as well so it was very memorable. A special place to pass anyway, and then to move up the rankings – I think overnight we gained two places so we were good."
You've now done two eastabout and two westabout round the worlds:
"I'm even now – I'm even both ways. I'm getting better at it! And I think believe it or not there's probably a few more round the worlds left in me! And I still consider myself relatively sane!"
"For me, I had the opportunity to be the first to sail the wrong way, and then the first to go both ways, and now to be a contributing factor to Anna having such a successful story today is brilliant, and she deserves it. She's been really good and I think there's a lot more left in her as well."
Anna, will you do three or four more round the worlds?
Anna Corbella: "I'm not sure, but for sure I'm not going the wrong way round, 100 per cent sure, because I hate going upwind!"
From the dock:
Dee Caffari: "It's crazy, I'm really impressed. I didn't expect it to be quite this big, especially so early in the morning but Anna's local heroine now so it's deserved that she has a welcome like this."
How do you feel about your result?"If I'm completely honest a little mixed, I was really hoping for a top five, but four boats didn't make it and we did make it, and we did it non-stop which is what we wanted to do. And we had other challenges to overcome, and we did all of that. I think overall performance-wise we've got to be happy, we've achieved something that's quite special and we can't forget that not everybody gets to sail around the world non-stop. But it's still in me, I've still got to get a top five place!
"Four really good skippers with really good boats had problems and that's the nature of a round the world race, you have these issues and you either overcome them and keep going, or it beats you. We had a structural issue that I've never had to deal with before and I've had to test my boat building skills which I haven't had to do before, so I've learnt loads. But for me strategy and tactically with the weather I feel as if we've really stepped forwards, which was key for me as I did try and work quite hard on that. And I'm pleased with the decision-making process, now I've just got to work on pushing a little bit more consistency.
"I think what our downfall is, we've discussed it and where our weakness is is where we have big wipe-out or a bit issue I lose a bit of confidence and it takes me a while to get back on the saddle again. And with Anna, she was quite happy to go 'Woah, let's back off', and probably what I needed was someone saying 'No, let's get that sail back up again' and I think that was a difference with the TJV with me sailing with Brian [Thompson] maybe, there was that person who had more confidence to go again."
What drives you to keep going round the world? "There's nothing wrong with my relationship or my life at home, honest! I love it. And the fact that I keep improving encourages me to keep going back out there. I don't find it a hardship, I actually find it enjoyable. Even the good and the bad, because you overcome a challenge and you feel quite good about life. I think because I'm still improving it encourages me to keep going out there. And, you sail with some of these amazing names and I'm feeling more confident being amongst them know, you know four laps of the planet and I think I deserve my place!
"The boat's been really good. We had that structural issue which I was really gutted about because we had perfect weather and we were in a mode of catching up the miles. You know we slowed down for a week and I took two days to do the repair, so I was gutted about that. Sail-wise we've got a full boat working well and it's all really good. So for reliability I love my boat! And my team are just the reason we got around. The reason I'm successful at non-stop is because I have that team – Joff (Brown, Technical Manager) is meticulous in his preparation and it gives me the confidence having his support."
Dee Caffari:"We had an awesome start, that was a very memorable day, we were very happy. And in the Mediterranean we just worked really hard, all the boats were really close, the weather was a lot of transitions, a lot of work, and some boats really suffered and some boats gained. We were doing really well, and then we had our first big challenge of the race and we got caught in a fishing net."
Anna Corbella on swimming in Gibraltar to cut nets off the rudders:"It was a horrible problem, and in the end we had to get into the water and cut it loose, because it was impossible to get rid of it. But anyway, we thought after this anything could happen to us so we were ready to sail on."
You were competitive down the Atlantic, then just under Cape of Good Hope you had a high pressure ridge and a lot of upwind sailing and lost a lot of miles?
Dee Caffari:"It was not what was promised in the brochure, I'd told Anna about the South and I'd told her about the big surfs and the downwind sailing and big gybes to do. And after we got round the Cape of Good Hope our first experience was a few days of really horrible upwind sailing, and Anna was a little bit disappointed with that."
In the South your strategy was quite conservative then pushed hard in the Atlantic on the way back up?
Dee Caffari:"In hindsight maybe we should have pushed a little harder. But we kept the boat in one piece and all the sails in one piece. We had a few challenges along the way, we've got a few stanchions missing from a little wipe-out. But we overcame all of them, we lived in the cold – and Anna was very brave in the cold, she was very happy when we turned the corner into that Atlantic. And that was our time then to chase the boys!"
Anna, did you suffer with the cold in the South?
Anna Corbella: "Well the truth is that it was cold, but we were so well prepared. In fact there was a Catalan company who really dressed me up from top to bottom. I was cold but I didn't suffer too much, and besides I benefitted from Dee's experience, she was very helpful – she told me when I should change clothes, when to go in, have a hot drink etc. But you can imagine when you get this spray of water at three degrees, and you get all splashed and wet, but you know there's an end to it and after Cape Horn everything is going towards warmer waters so you look forward."
Tell us about the relationship between you, will you be good friends after this?
Anna Corbella:"Sure, we really developed a really special relationship. I thought at the beginning that living together was going to be the most difficult experience in this sailing round the world. But you know, you haven't got any other chance, so you depend on each other, you have to help each other, and that develops a very special relationship, and in fact I was surprised. We had a very, very good time, no arguments, same objectives, always pursuing the same goal, so it was great."
Dee Caffari:"Well Anna's very British now, she's on time ALL the time. It worked really well, for me having an extra pair of hands was an added security. It made me very confident knowing that Anna was on the lookout for me. It builds your confidence and we got on really well. We had a lot of laughs and enjoyed it, and I think a lot of people noticed that most of the time in our videos and photos that we were generally smiling. Even if one of us was having a bad day the other one could bounce the other back. So we didn't have any issues which I was surprised at because it's something I was nervous about. I think twice we admitted to each other we may be grumpy because we were tired, and both of us were in a similar situation so it was all good.
"She's developed a taste for Haribo, I've developed a taste for jamon!"
Dee, you've been around the world three times now non-stop, would you see yourself doing this on a latest generation boat for a record attempt?
Dee Caffari:"Ooh, is that an offer! Yes, I've definitely got more round the worlds in me and I'm learning all the time and getting better. So the boys are going to have to watch out because I'm not staying in sixth place!"
After 102 days at sea do you feel like going for a walk, Anna?
Anna Corbella:"Sure I feel like going for a run right away but of course my legs are weak because we haven't been walking here on board and I guess that my first hundred metres are going to be exhausting and I'll have to stop and rest. In fact Dee warned me that after the Vendee she went for a walk and had to take a break because she was exhausted!"
There's a lot of talk about your all-female crew, do you think it will have repercussions for female and Spanish sport?
Anna Corbella:"I hope so. I hope I am encouraging lots of females to take on sailing. For me personally my effort is the same whether I'm the first, the third or the fifth. But I realize I am opening a door for many other girls, many females who are going to see that if I did it they can do it as well. I encourage all girls to take on ocean sailing, I think this is a great experience for all of us."
Dee, final thoughts on the race and whether you'd do it again?
Dee Caffari:"It's awesome. The dynamic of having two people on board but the challenge of sailing around the world non-stop is still there regardless. We all face different challenges and we all had to overcome them. Being successful this time gives you more confidence, and I hope in four years time I'll be at the third edition."
Anna Corbella:"After the Mini Transat this is something very different. It's not very much the same at all. But we've had such good fun, a lot of laughing. We also we had some hard times, but right now I'm thinking about my immediate future, which is a shower, sleeping and eating, and then we'll see about the opportunities but I'm very enthusiastic and I'm ready to do it again."
THE RACE OF GAES CENTROS AUDITIVOS
GAES Centros Auditivos
Only all-female entry, first for the Barcelona World Race
Dee Caffari (GBR)
• Was Global Challenge skipper in 2004-5, first circumnavigation fully crewed, with stops race/
• First woman to sail singlehanded against the prevailing winds and currents with Aviva in 2006
• Vendee Globe 2008-09 finished sixth
Anna Corbella (ESP)
• Only Spanish woman to complete the Mini Transat in 2009
• Will become first Spanish woman to sail around the world non-stop
Disliked sailing when she started at four on her parents' small yacht. Only when she started racing in the 420 that the bug bit and since then she moved through into an Olympic 470 programme which she progressed. She helped prepare Jaume Mumbrú's Mini Transat and then was lent his boat to compete on her own. Stepped on an IMOCA Open 60 for the first time just over one year ago.
The boat
• 2007 Owen Clarke design, formerly Aviva. Modified post Vendee for Dee (tiller rather than wheels, change winch layout etc)
GAES Centros Auditivos – The Barcelona World Race
• January 4th. After slow progress past Gibraltar, they exit the Straits in sixth place. Anna Corbella has James Bond moment when she swims under GAES Centros Auditivos to remove fishing net and debris from the rudders and daggerboard. But progress is one step forwards, two back in light winds.
Anna Corbella (ESP): "It's quite depressing and quite disappointing. There is not any wind. At times the current has been five knots, like a river. We have three knots of wind and are almost making progress. We have 25 miles to Gibraltar but who knows how long that will take. It could take hours, it could take days. For a while we have been making miles forwards and then just going back again. It is a bit depressing over an intense watch to go have gone forwards then to lose it all again as you go backwards."
• January 6th. GAES Centros Auditivos has a close battle with Neutrogena after Gibraltar, with less than 2 miles separating the pair the water at times. Dee Caffari: "We worked pretty hard with Neutrogena to get out of the Mediterranean, and the others behind came out quite quickly. They have been chasing us down all night and they are uncomfortably close. We can see Neutrogena, we can see them all the time. The position reports are in and we are all doing the same thing, pushing really hard. They are chasing us and we are feeling a little uncomfortable."
• January 7th.GAES Centros Auditivosopt for a more westerly course than Neutrogena, and pass Madeira in ninth, 22 miles behind the German-American duo.
Dee Caffari: "We are disappointed with our position today. Last night we were late making a tactical decision as we were originally aiming to head west of Madeira taking the same route as Virbac- Paprec 3 and Foncia. We realised too late that we would not make it far enough west and turned south to head leeward of the islands but that has put us too close and we are caught in the wind shadow of Madeira, slowing us right down."
• January 13th After being over 115 miles behind Renault Z.E. make massive gains after the Canary Islands, overtaking GAES Centros Auditivoson January 11th. The pair continue a close fight just 6-8 miles separating them. Dee Caffari commented that they had found the hard going in the strong trade winds very tough, and they chose to ease off to ensure they could preserve themselves and their boat:
"We got stuck. We fell of the back of the pack we were with and for quite a while it was hard to push. It was such a white knuckle ride. I bottled it a little bit and we went for a more conservative option for a while. While everyone was on the edge all the time, we have everything working, we have no problems with the boat, but we did lose some miles."
• January 16 Dee Caffari: "We have some nice sailing today, finally the rain clouds have gone and we have much more stabilised, constant upwind conditions and so it is lovely sailing.The Doldrums were hard work for us, you could not leave the boat for two minutes, so it is nice to be in established wind and that gives us a chance to go through the boat and do all the little jobs which are outstanding and to start looking tactically at the south.
"We lost some miles in the trade winds when the others were pushing really hard, but tactically I feel I have had a much better race than before and I am much happier with the decisions I have made. It's all good."
• January 17th, re-overtake Renault Z.E. to move back up to 7th.
• January 19 South Atlantic. Dee Caffari: "It's a little hot, a little sweaty, but very happy here! The closest boat to us is Renault, and obviously we've always kept an eye on Neutrogena after we let them get away in the north Atlantic, and it's been really good for us to see that we're just doing the same speed if not a little bit faster. And we've been trying really hard NOT to look over our shoulders at Hugo Boss coming down on us, we're trying to look forward!
• January 20th The fleet regroups past through Saint Helena High, GAES Centros Auditivoshave manoeuvred themselves further east in search of better breeze, and although they have overtaken Neutrogena into eighth, Renault Z.E. remain one place ahead in seventh.
• January 22, the St Helena High. Dee Caffari: "I think we're going to start a new club, the St Helena club, as we all float around going nowhere for a while. It's going to be really tough. There's two kind of stopping areas and we've just got to try and get past them, there's no way round them, we've got to let it pass over us, and just try and get in that breeze as soon as possible."
• January 23rd, Dee celebrates her 33rd birthday at sea with 'Go faster Southern Ocean knickers!"
• January 24th, GAES Centros Auditivos in eighth place, having caught up again to 15 miles fromNeutrogena.
• January 28thGAES Centros Auditivos having been forced on a more northerly route as they miss out on a system as ridge forms for them, and so the girls the entrance to the Southern Ocean, having taken a north-easterly course to the first ice gates having lost over 200 miles.Dee Caffari: "I have never seen the Southern Ocean like this, with the gates like we have. We get a ride and then by the middle of the next gate we are in high pressure, and then looking ahead we might even end up sailing upwind, it is a long way ahead. It is not a Southern Ocean we are used to, but it will give us lots of opportunities and I think there is going to be a concertina effect, and so we are just going to keep pushing while we can."
• January 31st. GAES Centros Auditivos continually find themselves in headwinds under Cape Good Hope. "Let's put a reality check on this! We are in the Southern Ocean going upwind, it is just ridiculous. We can't stay miserable and we have to try remain positive because we have got like three days of this, and it would actually be easier to stop in South Africa and have a party and then go again when the weather is nice, so we really are looking for positives from this.
"But it sucks, I went the other way around the world and went upwind, now I am going this way and am upwind. Everyone promised it should be downwind. Something is seriously wrong. This not what we signed up for in the brochure for the Barcelona World Race."
• February 1 Pass Cape of Good Hope in eighth place
• February 5th, back to Southern Ocean downwind sailing, now 590 miles behind Neutrogena.
Southern Ocean is a duel with Hugo Boss
Dee Caffari: "Neutrogena and Mirabaud are always our targets because we obviously lost a lot by having to take that northern upwind route, and it did cost us dearly while they were able to take that more direct route, so to close that gap would be lovely and we have not given up."
• February 9th Hugo Boss gain from behind to within 17 miles.
• Feburary 10th Hugo Boss just 7 miles behind but GAES Centros Auditivos hold them off for another day.
• February 11th Hugo Boss move into eighth. Dee Caffari: ""We are not that worried at the moment. I mean let's face it, if they are not [going to catch us] in these conditions when are they going to catch us? And we have a high pressure ahead and we have seen the results of a high pressure with these two boats before. They have been about one know faster than us most of the time recently, but I am pretty happy that there will be opportunities a little further down the line. They are not going to get too far ahead of us."
• February 14th, Anna passes Cape Leeuwin for the first time, Hugo Boss just 20 miles ahead.
• February 21st, Dee Caffari: "It is a hard decision for those who stop. It puts them back in the proximity of us which is quite exciting, but it disappointing for them. But that is what the race is all about and there is a long way to go. We were confident something was going to happen and some benefit, some will miss out slightly, but equally there is still 15,000 miles to go. But for those starting out again they get re-freshed, and they get their jobs done on board and they get some nice fresh food on board, and are really ready to go for it. And we just need to find the strength to keep going, and keep in the race."
• February 23rd, pass Wellington in ninth place.
• February 24th, ---- good under Australia and up the Tasman and out of Cook Strait they are 9 miles behind Hugo Boss, a gain of over 200 since passing Hobart. The team need to form a strategy for dealing with the severe Atu weather system. Dee Caffari:"It is really nice to have all the boats so close together again, it makes it all exciting again, each position report, which is great.
"It is the sea state around [Atu] which will be hard on the boat and so it is just making sure we don't do anything silly and we get this obstacle out of the way. You might lose some miles with these kind of situations but if you and the boat remain in good form then it is easy to make those miles up again than if you have issues and are constantly battling all of the time."
• February 26th, After a prudent, perfectly timed, nicely executed passage they clear Atu system, 72 miles behind Hugo Boss. Dee Caffari: "I guess I might have been too cautious but I'd rather with the option I had the ability to run away if it was bad, just because the sea state is so confused. And the other option I had was to take a more direct route that would have got us stuck in the sea state with not other options, so I am happy with that decision."
• March 1st Autopilot malfunction causes two crash tacks. Dee: "It was a catalogue of disasters and it took us quite a lot to get through it. And I just had a very brief time in the beanbag and I said to Anna that I feel like I have been beaten up. I feel quite exhausted by it.
"It was a bit emotional at the time but we did manage to giggle about it, we found the funny side of it, the fact that we were so ridiculously wet. But everything is still working, the boat is OK. We got the sails back on board, so of all the things that did go wrong we dealt with it all well."
• March 3rd Problem with Fleet broadband surfaces hampers receiving weather information and continues to the end of the race.
• March 5th named Women's Sailing Crew of the Year in Spanish Sailors of the Year awards.
• March 6th Mid-Pacific pushing on for Cape Horn. Dee Caffari: "The enjoyment level has disappeared somewhat. As I said to Anna it is the last push, it is the last few thousand miles. She said she felt like she had hit the wall, like you hit in the marathon, and I said it is typical of being down here. In a week's time it all starts to be more positive for you. I think it is the last days' push for her in the cold and wet and the grey and the wind."
• March 12thRound Cape Horn, overtake Hugo Boss after being 220 miles behind on March 4th.Dee Caffari: "It was unbelievable. I just cannot believe that after all these miles we were almost match racing around the bottom corner of the world. And right now physically I am exhausted. I worked harder in the last 24 hours than we did in the whole of the Pacific, we did more manoeuvres, more reefs in and out, than we did in the whole Pacific. But it was worth it."
• March 15th. Giving chase – Dee Caffari:"The pressure for us is on closing the gap to the boats ahead, we have got a couple of objectives and we need to keep pushing quite hard to meet them. The race is still very much on for us."
• March 21st-23rdGAES Centros Auditivos in sixth repeatedly the fastest in fleet up the Atlantic, where Dee was strong in the Vendée Globe. Gain over 550 miles over four days to fifth placed Neutrogena.Dee Caffari:"Knowing that we're going to close that gap a little bit is really nice. We're very lucky with the forecast we've got, and of course everyone else is going into transition zones or Doldrums or light airs, so it's really nice to have the bonus while everyone else is suffering because it shows up a little more, so we're pretty happy."
• March 26th – After a problem with a forward ring frame which forms a wall to the forward ballast tank splits surfaces by spilling 1.7 tonnes of water into the sail locker, the duo wait until they are well into the Doldrums to make a major composite repair which requires cutting open the tank to access the frame. It takes over two days of preparation and the girls have to slow down to absolutely minimize movement while the bonds set during 48 hours. The slow down costs them miles, as – ironically – the girls are looking for proper flat calms and they are offered 10-12 kts almost all the way through! Make laminate repairs to leaking ballast tank, slowed with three reefs in main.
• March 28th Cross Equator: Dee Caffari: "I think that's my tenth equator. It is outrageous when I think about it. I feel very lucky because some people do it once in a lifetime."
• April 3rd Tough North Atlantic: Dee Caffari: "This last week has been quite monotonous and I have not really enjoyed it. It has been crashing to windward, very wet on deck and even though the sun is out, you cannot really enjoy it because everything is really salty. And we have not had to do anything. There have been no sail changes or anything, we have literally had the same thing day in, day out, so we have literally just eaten, slept, trimmed sails, and kept a lookout."
• April 9th Pass Gibraltar.
• April 13th Arrive in Barcelona after 102 days 19 hours 17 minutes 18 seconds of racing