More Barcelona World Race Articles
Day 99 Home in Fourth: A warm Barcelona Welcome Home for Pella and Ribes
A day of high emotions as Barcelona's Estrella Damm finishes fourth in the Barcelona World Race.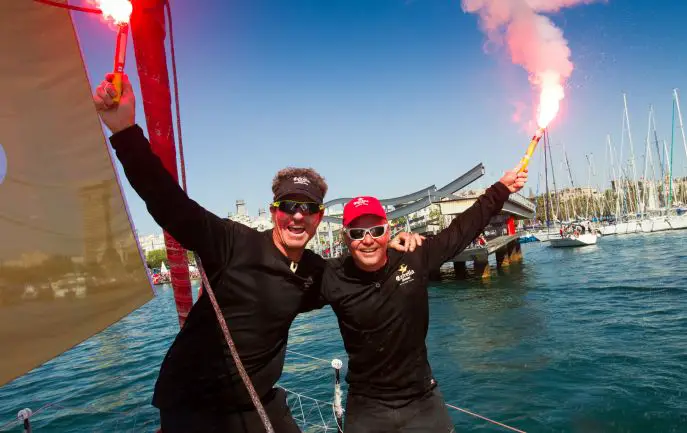 Their finish, back into their home city was one which mirrored their race, rich with emotion.
Fourth place in their first attempt at the Barcelona World Race, the conclusion of a two year programme is a result which Alex Pella and Pepe Ribes can be justly proud of, but it comes after a 25,200 miles circumnavigation over which the duo experienced many more highs and lows than the three teams which finished ahead of them.
For Pella, who learned on and has sailed his whole life on the waters off his native Barcelona, today was an emotional finale to a lifelong dream.
"To finish your first round the world race in my home city in front of my family and friends is a very strong emotion. In it is just magical." Said Pella.
It was incredible. I have done other incredible races but coming back after 98 or 99 days to my home city was incredible, where all family was on the water, my brothers, I have a boat with my brothers, my father's boat, the old boat of my father, all the people from the yacht club were there it was crazy, just wonderful, fantastic."
In a touching moment Ribes was reunited with his tiny son, Pepe, who was born just three weeks before the start; seconds later on the deck of their red Farr designed IMOCA Open 60, he took a phone call of congratulations from 'sir'…. SM Juan Carlos.
A partnership forged between Ribes one of Spain's outstanding Volvo Round the World and America's Cup sailors and Pella, the most promising young former Mini class sailor, and tempered over 30,000 hard miles of preparatory racing and training, the duo lead the Barcelona World Race in the South Atlantic, but then haemorrhaged miles to the three leaders Foncia, Virbac-Paprec 3 and MAPFRE who went more west at the Saint Helena high. Estrella Damm caught back twice to have MAPFRE in their sights only to be later confounded when a Solent headstay fitting which they had upgraded once from titanium to stainless, and twice had checked, failed as they approached Wellington.
Their 48 hours stopover in Wellington compounded the losses they had just sustained by missing when a weather window closed by the developing high pressure in the Tasman Sea.
And their hefty ballast of time and miles lost were then added to when the pair battled head on with ex cyclone Atu, as they emerged back into the Pacific which left both with damaged ribs, and Ribes with a knee injury.
In total Ribes said these were the worst times of the race, losing – he feels – some five days on their rivals ahead.
But the pair, returned to dock metres from Estrella Damm's home club to huge acclaim with a pledge to do the Barcelona World Race again together, while Pella wants to find a boat and backing to compete in the Vendée Globe solo ocean race around the world:
Up the Atlantic on their homewards passage, the duo fought valiantly to close the gap on their close friends and Barcelona rivals Pachi Rivero and Tonio Piris on Renault Z.E, and to stay ahead of Neutrogena who continuously pressed them until Estrella Damm was able to foot off and execute a better final strategy on the Azores high pressure ridge.
But even then crossing the threshold back into their home Mediterranean proved a threat to their finish, with a gale force Levant easterly headwinds giving them up to 65 kts and 5 metres standing pyramids of water, waves which had the venom and power to end their race in an instant, only 520 miles from home.
Seeking some shelter they made 23 tacks, and one memorable last gasp gybe made in 65 kts of wind, in a 30 hours period from the Strait.
Getting home this morning, more than most they deserved a beer or two.....Estrella Damm, of course!
Finish:
Alex Pella (38)and Pepe Ribes (39) crossed the finish line to complete their Barcelona World Race at 08:45:59hrs UTC (10:45:59hrs local) Saturday April 09th in fourth place.
Their elapsed time for the course was 98 days 20 hours, 45 minutes and 59 seconds, an average speed for the course of 10.62kts for the 25,200 miles theoretical course.
They sailed an actual course of 28,762 miles, at an average 12.12 knots
Quotes:
Alex Pella (ESP): Estrella Damm: "You never really know how big, how hard or how long the race is really going to be, no matter how you prepare and for me it was the first time to do a long, long, long race, so it was all new but a fantastic race. I think it will be so valuable to do it again having already completed one race because the experience is invaluable.
We are happy with the speed that we sailed the boat, with the feeling we had together, the rhythm we sailed the boat, meteorological experience and taking decisions, that was the bit we were no so good on, to do it right. Sometimes we did not know, or really have a good feeling with the options. And so that is the most important thing for me, for the next edition with Pepe, to have more confidence with the meteorological studies.
We need a new boat for the next edition and we need to sail more. To do this race with Pepe we sailed 30,000 miles, and now the race, but I think you can never sail too much, there are so many things, the configuration of the boat, the rhythm, many things in these kind of races.
We are generally happy, especially when we looked a the start and saw many boats like Michel Desjoyeaux and like Jean Le Cam, Groupe Bel, for sure these were sailors with good boats, better than us, and so when we left we thought sixth or seventh which would be good for us. In the Mediterranean, at the Canaries, Cape Verde and down to Bahia we were always in the top group and then first. We felt very good with Pepe and always in the top three in the first half of the race. We made mistakes but we were always in the top three. Fourth, well…Renault was well behind…but in the end they did a very good race, maybe….We are happy because we are here, and before the race 4th was a very good place for us.
The first thing was leaving the Mediterranean in a good place, behind the two best teams, to arrive by Bahia Salvador in first or close to first position, but then the worst was in the Saint Helena high pressure where we lost. The second good moments was sailing in the Indian Ocean, when we caught back up to the MAPFRE guys, because they are very good sailors, very fast, and the worst was for sure Wellington where we stopped because not only we stopped but we stopped after having very light winds, and we stopped for 48 hours and then left bang into the Cyclone.
When it is bad, for both us together, you try to make some jokes, it is very difficult. When you are both together in the bad situation, Pepe is down and I am down, it is not easy. The best thing is to contact the girlfriend, by e-mail or phone, and have some news about family or friends, that is always a lift, some fun. The videoconferences were a lot of fun, and great to see faces from the outside world. But for Pepe he would say: I have to call Sandra, or I have to call Lida, or some mails from friends, but when it is bad, it is very important to have a solution.
It was incredible. I have done other incredible races but coming back after 98 or 99 days to my home city was incredible, where all family was on the water, my brothers, I have a boat with my brothers, my father's boat, the old boat of my father, all the people from the yacht club were there it was crazy, just wonderful, fantastic."
Pepe Ribes (ESP) Estrella Damm: " I am very happy, it is a very good day for us and for the team. Before the start we thought we could be seventh very easily, we can't forget that there are some big names who left the race course. We had one problem that cut our race in half which was the broken furler, but other than that our sailing was really quite good, we were always going forwards, and that is what you have in your mind.
We have been learning to make decisions. That is normally not in our job. On a Volvo boat someone tells me what to do and I do it, and so this has been a learning curve for us which was very steep, and we made a lot of mistakes. So it is a learning curve for the next time which will be much better."
On the St Helena High dilemma going south:
"We had a lot of information and we were very close to have the decision to go to the right. There was a moment that they were stopped (VP3 and Foncia) and we were not sure 100%. There was one boat coming on the right which was MAPFRE, there was two boats stopped and there was six boats coming on the other side on the left, so we went to the left to protect the left. It was tactics, not strategy.
We were leading, but there is no difference on the boat when you are leading or not, if you have your race going on there is no difference at all, life goes on the same."
"The worst days of the race were going into Wellington because it was such a big change of mind. We knew that it was going to be a big loss. We lost one day already because we were not able to pass MAPFRE, I think were 70 miles behind, we stopped with the high pressure and ended up having to go upwind against the high pressure, and after we left Wellington we had the storm, so I think over the whole stop and everything we lost five days."
"I think that it is an unbelievable race, a very tough race, you have to be very well prepared, and I think we did a very good preparation. The boat is here, we did not have a lot of big problems, just the one that marked our race. I would love to do it again, with a faster boat. When you go with a faster boat it helps with the decision making because if you mistakes you can still be very fast and stay in it. But don't get me wrong this boat has been unbelievable. I think this boat has lived hard, we have done a lot of hard miles and pushed very hard and here she is."
On seeing Pepe junior (4 months):
" I don't know if he knows me, he is screaming all morning! He is much bigger than when I left, but I have a lot of catching up to do."
The Race of Estrella Damm, 4th place
The explosion of a furling drum and split of their main solent headstay when they were just about to cross Cook Strait in third place is the key feature which finally shaped Estrella Damm's fourth place. Always close to the podium, they were leaders for nearly six days in the South Atlantic after the stop of Virbac Paprec 3 and Foncia in Recife, Brazil.
The damage required Alex Pella and Pepe Ribes to dip out of the race for a 48 hours pit stop in Wellington, at the same time as Groupe Bel of Kito de Pavant and Sebastien Audigane.
This technical stop makes an indelible mark on their race for them. Not only did second placed MAPFRE, which did not stop, slide out of reach from Pella and Ribes the Barcelona duo also saw how Renault, Neutrogena and Mirabaud overhaul them when they were halted for repairs. The 48 hours of stopping in Wellington, at the same time to almost the minute for Groupe Bel forced them to a timeline which required them to deal with ex-cyclone Atu.
On board the winner of the first of the first Barcelona World Race, the former Paprec-Virbac 2 of Jean Pierre Dick, Pella and Ribes had always been in the leading group. Their exit from the Mediterranean was quite painful with no wind and a westerly current that made them even slip back into the Med when they had already been in the Atlantic, and a smart escape strategy had allowed Mirabaud up to third for a few days.
On January 8th Estrella Damm had fought up to third, but with some margin already behind Virbac Paprec 3 and Foncia, who every day were increasing their advantage on the rest of the fleet.
The breakages that obliged the two French boats to a technical stop in Recife allowed Pella and Ribes to be first on Jan 14th, one day after crossing the Equator.
They had to decide then whether to go round the St Helena High to the west or try to cross it in the middle. Some forecasts pointed to the possibility that this high pressure centre would break in the middle, made Estrella Damm look for a shouter routing east towards the Cape of Good Hope.
Followed by almost all the fleet - only MAPFRE looked for an alternative between the two theoretical routes - Pella and Ribes saw Foncia, Virbac Paprec 3 went west and they and MAPFRE went ahead between the 20th and 22nd of January.
The breakage of the mast of Foncia allowed Pella and Ribes to climb back to third position, and they traded this position at different times with Groupe Bel in the Indian Ocean.
South of Australia, Estrella Damm got closer to MAPFRE, while one and after another went into what was then considered the worst storm of the race with winds up to 50 knots.
The Tasman Sea was quite hard on Pella and Ribes, who had placed a great premium on being able to pass Wellington without stopping. But just after all their efforts, they broke a forestay just outside New Zealand.
It was a part that they couldn't repair on board so they had to stop for 48 hours in Wellington. During this time they saw Renault, Mirabaud and Neutrogena get away with favourable winds. In fact Pella and Ribes lost 500 miles to Pachi and Toño on Renault Z.E Sailing Team.
As if this was not enough, a tropical cyclone went over the path of Estrella Damm and Groupe Bel, who had left New Zealand together. "Having gone through the eye of cyclone Atu - I don't recommend this to anyone! Twenty-four hours of winds of 40-50 knots, mountainous seas, a lot of stress," said Ribes in a tweet.
Atu also caused them some physical pain, both took big falls one inside the cabin and one during a manoeuvre on the bow resulting in rib injuries for both and a badly twisted knee for Pepe.
Between Wellington and Cape Horn, Estrella Damm made back 100 miles to Renault and passed Cape Horn on March 9th in seventh place. But in the South Atlantic Estrella Damm really got back to Renault and there was a moment when they were only 76 miles away.
In fact Pella and Ribes have had the best time so far in the Atlantic South-North trophy, between Cape Horn and Gibraltar.
There was worse to come, if the Med hadn't wanted them to leave it also made it very difficult for them to get back to Barcelona.
"It has been the hardest part of the whole circumnavigation,"explained Pella and Ribes a couple of days ago, about their crossing of the Straits in winds that went up to 65 knots and mountainous seas.