More Barcelona World Race Articles
Day 95 Iker and Xabi, the complete circumnavigators, take second
When Iker Martinez and Xabi Fernadez crossed the finish line of the Barcelona World Race at 0917hrs (UTC) today the Spanish Olympic champions of 2004 took second place, having completed the 25,200 miles course in an elapsed time of 94 days, 21 hours, 17 minutes and 35 seconds.
Their average pace on MAPFRE was 11.07 knots for the theoretical course distance, and over the 28,759 miles they actually covered they made an average of 12.63 knots. They finished 22 hours, 56 minutes and 59 seconds behind winners Virbac-Paprec 3 to a tremendous reception in a sun-drenched Barcelona.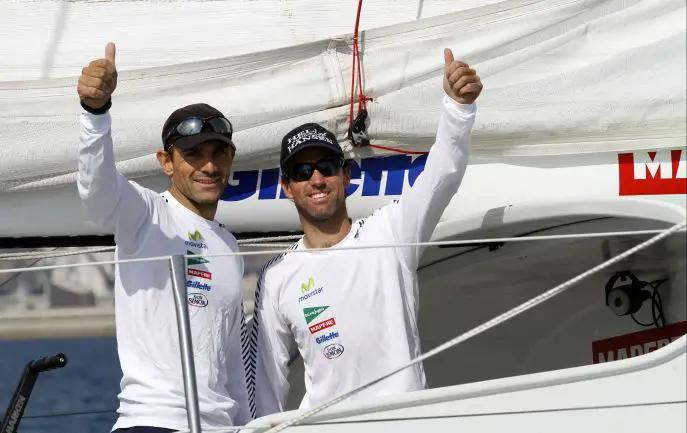 "This is an ideal situation for us. Until 14 months ago we had never sailed an IMOCA 60 and so we could not aspire to very much. But the race was very good, much better than we expected. We've made a huge step. Tomorrow the project is finished but if in the future we want to do it again we can hope to aspire to anything.
"We learned a lot, every day. Each day has been a learning process. Especially all the way through the South Atlantic and Indian Oceans. We were sailing well and we could fight with those at the front. We believe that we can go one step further,"said Iker Martinez, shortly after he and Xabi had made an emotional reunion with their young families on the deck of MAPFRE.
His co-skipper Xabi Fernandez added "These past 94 days have been never-ending. If you told me it was 105 days, I would believe you. But it has been a great regatta."
Back in 2007, when the inaugural Barcelona World Race answered the start gun off the Catalan capital, two of sailing's most likable and down to earth Olympic gold medallists were merely interested spectators. With a first experience of the crewed 2005-6 round the world Volvo Ocean Race on Movistar behind them, Iker Martinez and Xabi Fernandez were in the throes of intense preparation for their second Olympics and on an enjoyable day trip to see the new non-stop race set off, but the seeds of an idea were sown.
Their second Olympic medal, from a demolition derby medal race in Qingdao, China, was not of the colour they had set out for, and so the duo gave everything to ensure they won their third 49er World Championships in the Bahamas in January last year. Only with their third title bagged, did the duo let their idea of another offshore adventure grow.
Both were total IMOCA Open 60 novices when they set foot on one for the first time in late February last year. "We wanted to know if it was something we could do together, and now we have our answer," said Xabi Fernandez, a few days ago on live Visio-Conference.
Today the Basque duo, who have sailed together in the 49er since 1999, not only confirmed to themselves that the Barcelona World Race is a challenge they can complete, but by winning second place, the IMOCA Open 60 'rookies' have underlined what an outstanding sailing talent they are.
Finishing in second place, just under 23 hours behind the race winners Virbac-Paprec 3, the Spanish pair are the first team to complete the entire circumnavigation non-stop.
"We would rather be fifth and complete the circumnavigation without stopping, than finish second and stop. This is our opportunity to go round non-stop together and that is what we have always wanted to do,"said Xabi on the approach to Wellington, re-affirming that fundamental goal a few days ago.
'Leave nothing on the race course' is the universal maxim of coaches. Arriving today with all gauges down to 'reserve' – no food left and no fuel, unable to run their engine any more, it is unlikely that any team has pushed harder for longer. A batch of spoiled freeze dried meant the duo have been on reduced rations for at least three weeks, having first mentioned back in the Doldrums that they were low on nutrition.
For the duration of their 25,200-mile, three month-long course they have vividly and coherently transmitted their simple love for sailing, the relentless drive and stamina which has been at the foundation of some of the race's most consistent high speeds, and opened up their incredible adventure to an enchanted audience.
Their ability to regain ground with long days of fast-paced, high mileage sailing had race winners Jean-Pierre Dick and Loïck Peyron consider them several times as "serious customers, who sail the boat well".
Fernandezand Martinez sailed constantly in second place for 18,900 miles since the 26th January when they took up the baton from mentor Michel Desjoyeaux and Francois Gabart (FRA) after they lost the top of Foncia's mast.
A deficit to Virbac-Paprec 3 at the Cape of Good Hope of 730 miles on January 29th had grown five days later to 780 miles. But, after Virbac-Paprec 3 stopped in Wellington to repair their mast-track and batten cars, by the mid-Pacific the Spanish duo had got tantalisingly close, to within 8.3 miles of the leaders by February 25th.
Their baptism of fire into the rarefied world of deep ocean IMOCA Open 60 racing has been completed, where self-reliance in every area – mechanical, electrics and electronics, sailmaking and boatbuilding – is as much part of the complete circumnavigation as trimming sails, managing sleep and nutrition.
The Spanish pair rose admirably to the multiple challenges. Belying their Olympic one design and Volvo Ocean Race backgrounds, where a top specialist is, at worst, a phone call away 24/7, at best at your elbow in a second, on 11th February in the Indian Ocean they finally revealed that they had spent 48 hours completing a workmanlike, ingenious composite repair to their port daggerboard, five days after they lost 1.5 metres off the tip when they hit an object.
They had not mentioned the impact when it occurred five days previously, and ran silently while they cannibalised foam from the helm's seat to make the repair. After trying to repair it on deck they next had to manhandle the 100 kilos, 4 metre-long blade into the cabin of their IMOCA Open 60 where they set up a tented workshop to finish the repair. Their success it fixing it ensured that they did not have to make any technical stops and were able to complete one of their main goals.
After Cape Horn they had to make a short halt, mooring briefly in the remote Isla Nueva at the entrance to the Beagle Channel. There, in the fading darkness, Martinez scaled the mast to sort out their jammed foresail halyards. Their detour and brief pause cost them 80 miles to leader Virbac-Paprec 3.
They served notice of their capacity for speed in the turbo charged racing of the north-easterly trades where they set an electric pace, sailing lower but faster than their opposition. They admitted pre-start to being less confident of their weather strategy experience, having never previously had to take sole responsibility for routing, but as the race progressed so their skill and confidence developed, and Martinez confirmed it was a component of the race they were enjoying.
On the descent of the Atlantic in the approach to the key Saint Helena anticyclone they were first to use 'ghost mode' as they sought to cover a move to the west and south, but when the weather files seemed suddenly to turn against them, they had to bail out back to the east, furiously beating back upwind to try and close the gap back to then leader Estrella Damm.
And on the return up the Atlantic, the dominant South Atlantic anticyclone again was a thorny dilemma. Dick and Peyron escaped to the east, avoiding the worst of the lightest breezes and reeled out more nearly 400 miles of additional lead in three days as the Spanish duo struggled to extricate themselves.
Through their many highs, and few lows, the duo have visibly enjoyed sharing each mile and hour of the course with their audience. They have thrived on sharing special moments, patiently taking minutes from the relentless race to speak with just some of the many hundreds of youngsters who have followed the race on the Visio-Conferences. Without doubt they are now the complete circumnavigators.
Quotes:
Iker Martinez:"I'm feeling great because everyone we want to have here is here, all the family, all the friends, everybody's here. So we're feeling very happy and a little bit more relaxed, now it's time to have a rest and enjoy it a little bit!"
Did you expect to finish second? "Not at all, no no. We know about racing, so we knew anything could happen, but we knew already that it would be very difficult to be on the podium or in the top five, so our goal here was to finish the race non-stop, that was in our minds since the beginning of the project, since we started training. So after that, racing is racing, things can happen and they were happening for us. I think we were pretty lucky on how things were going within the race, and then we were learning pretty fast. We suddenly saw in the Indian Ocean that we were sailing pretty close to the leaders, and we were really sailing well and feeling good - at the beginning we weren't feeling so good as we didn't know how to sail the boat, but then at that moment we decided, ok, now is the moment to push!
"We have a lot of good memories, many different things. It's not just a race, it's an adventure so you have many feelings. Probably the best one is to be able to do a race like this with Xabi, both of us together, that's probably the best bit. And then a lot of little moments, problems or things we enjoyed. Whenever we're sailing together, not in the 49er but like this, we're always trying to solve problems - 'do you know how do to this, or this?' that was happening every day."
Background story:
• February 2010After doing a deal on his highly optimised, well proven Vendée Globe winning Farr-designed Foncia last year the duo first went to IMOCA Open 60 'school' learning from double Vendée Globe winner Michel Desjoyeaux and his technical team in Port La Foret in Brittany. After six weeks of work around the boat, learning with their shore team the keel, rig, mechanical and electricals, they went out, with 'Le Professor', and won their first IMOCA race, the Grand Prix Douarnenez.
• April-June 2010At the beginning of April Martinez and Fernandez sailed with their team back to their base in Sanxenxo, Northern Spain and in May sailed on to Port La Foret, before contesting the round Spain, Vuelta España a Vela in June, where they finished fifth.
Race history:
• December 31st2010 MAPFRE started their first round the world race up with the main group, but stuck close to the northern, Spanish side of the Gibraltar Straits, dropping to ninth by January 3rd.
• January 10th Back up to fifth place, MAPFRE earn their reputation as 'speed kings' consistently scoring 20-plus knot speeds south of the Cape Verde islands.
• January 15th With Foncia and Virbac-Paprec 3 stopping in Recife, MAPFRE move up to second, and become the first to employ 'stealth' mode as the French pair rejoin the race, emerging 183 miles behind new race leaders Estrella Damm. However, their middle route between the westerly leaders and easterly main group sees them lose out, briefly dropping to ninth before working hard to overtake the peleton to the east and climb to third.
• January 26th Move into second place after Foncia break their mast, 543 miles behind Virbac-Paprec 3. Rounded Cape of Good Hope three days later more than 730 miles behind the leaders.
• February 4thHave reduced the deficit to just 412 miles.
• February 11thReveal that they have had to make major repairs to their port daggerboard.
• February 16th Virbac-Paprec 3 make a 48-hour pitstop in Wellington, New Zealand. MAPFRE enter the Cook Strait just as the French leaders depart.
• February 25thHaving tailed Virbac-Paprec 3 across two Pacific ice gates, MAPFRE are within 8.3 miles of the leaders. Their pace in this stage of the race earns them the Pacific Trophy for the fastest course from the Cook Strait to Cape Horn.
• March 3rdRound Cape Horn, then stop straight afterwards to make unassisted repairs to their halyards. Rejoin racing 220 miles behind the leaders.
• March 11thVirbac-Paprec 3 emerge from the St Helena High pressure system 544 miles ahead of second-placed MAPFRE, with the Spaniards having been becalmed on a more westerly course.
• March 19thHaving given chase once again back up the Atlantic, MAPFRE close to within 111 miles of Virbac-Paprec 3 across the Doldrums, but can gain no more.
• March 25thBoth the leading boats deploy 'ghost mode' as they contend with the Azores high pressure system, but Virbac-Paprec 3 emerge 240 miles ahead.
• April 4th MAPFREpass Gibraltar, Virbac-Paprec 3 win the Barcelona World Race.
• April 5thMAPFRE arrive in Barcelona in second place, after of 94 days, 21 hours, 17 minutes and 35 seconds of racing.