More Barcelona World Race Articles
Day 107 Last night in the Atlantic, last weekend at sea for Andy Meiklejohn and Wouter Verbraak on Hugo Boss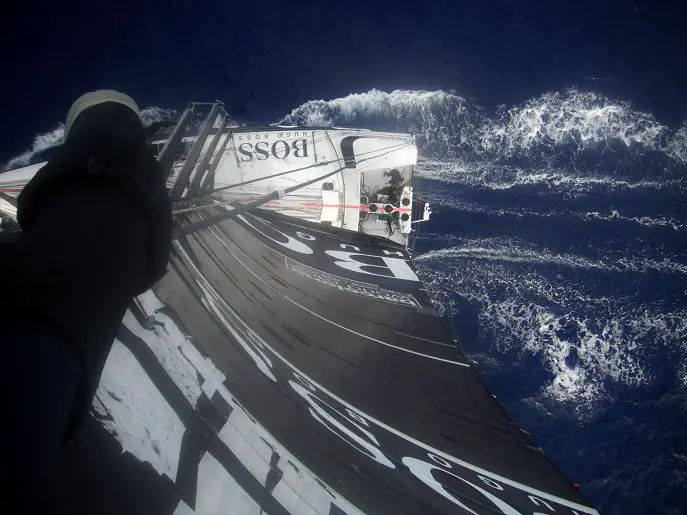 Andy Meiklejohn and Wouter Verbraak should be having their last night in the Atlantic tonight, contemplating passing the Straits of Gibraltar into the Mediterranean some time tomorrow, but the question for the Kiwi-Dutch duo is when?
This last night will be one which could be long and drawn out as they have a transition zone to negotiate, which will see the wind clock round to the east, rather than the useful SW and SE'lies which have continued to let Hugo Boss make speeds between 11 and 12 knots through Sunday.
Mid-afternoon Sunday they had around 188 miles to Tarifa, and for sure will also be seeing the end of their final weekend at sea. Present indications have Andy and Wouter arriving Barcelona on Thursday evening, possibly into Friday depending on their Med weather.
Predictions have them in the Straits of Gibraltar late tomorrow afternoon in a brisk Levant.
On the other hand, Gerard Marin and Ludovic Aglaor on Fòrum Marítim Català to the west of the Canary Islands have been making 12-13kts in 20 to 25 knots SW'lies. The predictions suggest they can hold the more direct course to Gibraltar, passing with a deficit of around one day behind Hugo Boss.
In the South Atlantic, the We Are Water have good easterly tradewinds near the Brazilian coast. Jaume Mumbrú and Cali Sanmartí have a good rhythm going, making 10 knots of average speed towards the Equator which was 720 miles ahead this morning. Their passage of the Doldrums will start tomorrow evening and threatens to be quite complicated with a fair amount of stormy cloud activity.