More Barcelona World Race Articles
Day 85 A Long Beat to Barcelona
MAPFRE returned from ghost mode

Virbac-Paprec 3 at Gibraltar 1st April

Boatbuilding time for Dee Caffari and Anna Corbella

Central Lechera Asturiana preparing in Wellington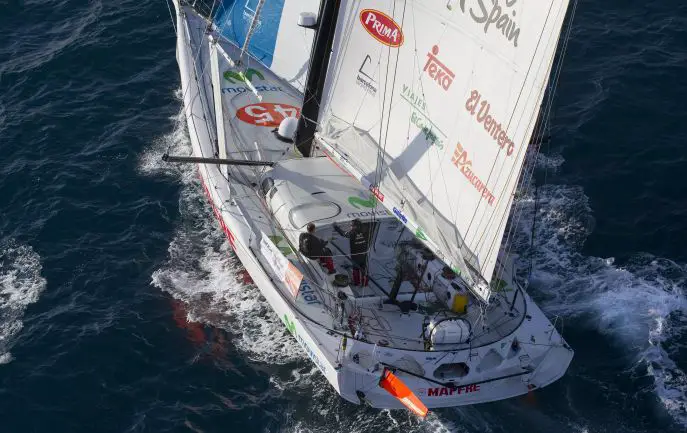 Second placed MAPFRE emerged from ghost mode this afternoon having made a net gain of some 33 miles on Barcelona World Race leaders Jean-Pierre Dick and Loïck Peyron.
The French duo are still very much in a controlling position on what promises to be a long windward leg to the Straits of Gibraltar, but it is the Azores high pressure which is still dictating terms to the leaders, forcing them east and on the wind.
As they approach the Canary Islands from the west, even Virbac-Paprec 3's Loïck Peyron sounded slightly wearied today, hardly inspired by the prospect of six more days at least of windward sailing in moderate breezes, but the duo will be content to have their Spanish adversaries back 'in vision' this afternoon.
And while Iker Martinez and Xabi Fernandez may have gained a few miles as the leaders flirted closer to the centre of the prevailing anticyclone, slowed in lighter breezes, now it will be their turn to stretch slightly as they sail east, theoretically into more wind pressure.
Peyron would not be drawn on their best estimate for Gibraltar, but it looks likely for early on 1st April. With just under 1600 miles to go and a VMG of under eight knots, the final days will be a test of patience as much as skill, guile and boat speed.
MAPFRE was making east or a parallel track to Virbac-Paprec 3 this afternoon, taking each wind shift or extra pressure that they could, making at least two or three short tacks over the course of today as they step north then east, their raw boat speed slightly down on Virbac-Paprec 3 sailing in slightly lighter NE'ly trade winds.
For firm friends, adversaries and Barcelona sparring partners on Farr sister-ships Renault Z.E Sailing Team and Estrella Damm, third and fourth respectively, there was the novelty today of being linked together duplex by Visio-Conference with Barcelona and Race HQ.
Cheeky banter was inevitable between Pepe Ribes and Toño Piris, Ribes ribbing Talpi when he got the chance, but clearly the two teams enjoy particular bragging rights between each other having prepared alongside each other from the Barcelona competition base, and not least in completing the New York-Barcelona record in April last year, but Piris reaffirmed again their concerns about the speed potential of Estrella Damm.
And in turn Ribes is also still concerned about the fact that Neutrogena have doggedly held pace with Estrella Damm:
"Twice we have put sixty miles on them and twice they have come back at us. They have an ability to sail a higher angle which we can't seem to. We are starting to sail in a faster upwind mode and they sail slower but a higher angle. Their way to sail is different from ours, we can't sail their way because we can't make those angles with the same speed they are doing. If we cannot control them at their speed and angle then we are forced to do a different thing."Explained Ribes of their duel with fifth placed Neutrogena whoe were still less than 20 miles behind Estrella Damm this afternoon.
Dee Caffari and Anna Corbella appear to be making modest progress again after a slowed spell this morning and early afternoon which suggested they could be making their composite repair to their mid bow stringer and forward ballast tank. Thanks to extensive preparation work undertaken by Caffari to make the area completely ready the repair was forecast to take three to four hours according to GAES Centros Auditivos' boat captain Joff Brown.
FMC had 370 miles to go to Cape Horn this afternoon and from Wellington news is still awaited of the outcome of the sea trials of Central Lechera Asturiana.
Due to the change to summer times as of Sunday 27th MAR rankings are now published at 4hUTC/5hBST/6hEurope; 9hUTC/10hBST 11hEurope; 14hUTC/15hBST 16hEurope/19hUTC/20hBST/21hEurope
Standings of Saturday 26th March at 1400hrs
1 VIRBAC-PAPREC 3 1599.3 miles to finish
2 MAPFRE + 211.4 miles to leader
3 RENAULT Z.E at + 1094 miles to leader
4 ESTRELLA DAMM Sailing Team at + 1248.7 miles to leader
5 NEUTROGENA at + 1265 miles to leader
6 GAES CENTROS AUDITIVOS at + 1769 miles to leader
7 HUGO BOSS at + 3496 miles to leader
8 FORUM MARITIM CATALA at + 3855 miles to leader
9 WE ARE WATER at 5620 miles to leader
10 CENTRAL LECHERA ASTURIANA at + 9951 miles to leader
RTD FONCIA
RTD PRESIDENT
RTD GROUPE BEL
RTD MIRABAUD
Quotes
Loïck Peyron (FRA) Virbac-Paprec 3:"Yes, for sure we start to count down the days, especially now as the days seem longer as we slow down now rather than accelerate towards the end. The least you could say is we are not going very quickly towards the finish. We are upwind since we got out of those hard, long Doldrums and the breeze has been mostly quite weak and even now it is not too strong and always on the nose. All that makes it feel a long way still to Gibraltar, and I cant even talk about what comes after that. But I guess that sailors for thousands of years have known that upwind is not fun! I have few good memories of beating, even with modern boats! I was telling Jean-Pierre some old stories about how sailors used to take months to do what we now do in a few days. It is not that interesting to shave the rocks of the Canaries. I know the area rather too well. When I was 19 in 1979 I went a little too close for comfort, shaving the rocks and grounded, so I know the area a little too well and it is 30 years or more that I have been passing here.
But we will see the land for sure and be able to admire the high outline from a distance, because the peaks are quite high
I am looking forward to the normal things, seeing my wife and my children, and what I like it a nice, fresh green salad with olive oil. We have not looked at our ETA in Barcelona as there is something called the Mediterranean in between us and the finish, and at the moment we have few accurate timings to get to Gibraltar.
From the information we have on MAPFRE it seems they will do roughly the same mileage as us in ghost mode, but they might be a little more favored by the anticyclone to our left which should move away a little, a bit more favorable for them.
And in theory we do what we can to protect our position from them, but nothing is ever certain.
Antonio Piris (ESP) Renault Z.E Sailing Team:
"We are upwind in 15 knots of breeze and it is a pleasure, especially compared to a few weeks ago, this is solid gold. We are not thinking about the challenge ahead, only thinking about Estrella Damm they are very fast and will be fighting and struggling to the end.
The worst experience I had in this race was when I underestimated the load on a rope when I was closing a clutch and there was a lot of tension on it, and it was about to seriously hurt me, that is the time I saw the ears of the devil, but nothing really happened. It was a bad moment because if I had been seriously injured it would have been the end of the race for us.
Ghost mode is worth using only if we are very close and in a meteorological situation which merits it, if it could offer a different option, then it would be worth using, but it is not worth using.
We have a fight, a battle and it will be a great finale to the race, exciting and stressful until we see the W Hotel at the finish. This is much more preferable than to be many miles apart, this is a race to the end.
Pepe Ribes (ESP) Estrella Damm:
" We have not seen the transom of Renault, the binoculars are not that powerful, but they have to have to keep watching in their rear view mirror.
Today we are really into the trade winds. Yesterday they were hard to get into, but now they are well established with 15 knots and on deck it is great, it is a joy to be on deck.
Upwind always the boats suffer a little bit because they are loaded more, the sails, rig, keel and so on. At the moment it is OK at 15 knots but at 25 knots it is different with much more load so then you have to be careful with the material.
We are expecting the conditions to improve and that should allow us to get closer to Renault Z.E. We still have beer on board, we have some celebrations left so we keep it until Barcelona. We have plenty of food left for an extra week.
The first time I sailed a boat, I don't remember but maybe in the Optimist at seven, but I was on a boat with my parents at three or four years old.
Sometimes you are a bit fearful of not having full control of the boat, if you don't have full control then it can be a bit frightening.
The race has so many different faces and I have enjoyed them all, it is very hard and tough. I have liked all the oceans. This is not finished yet. The temperature is getting warmer and I like it very much, but in the Indian with the waves and the low temperatures I liked it, it was nice.
I don't know which bit I have liked the most.
We have had good food, good dehydrated food. I am sure that when we get back once we have good meat and some rice maybe we will realise what we have missed, but at the moment it is all good, we have some desserts left too."