More Barcelona World Race Articles
Day 98 Memories are made of this
Childhood friends Rivero and Piris take Barcelona World Race third on Renault Z.E Sailing Team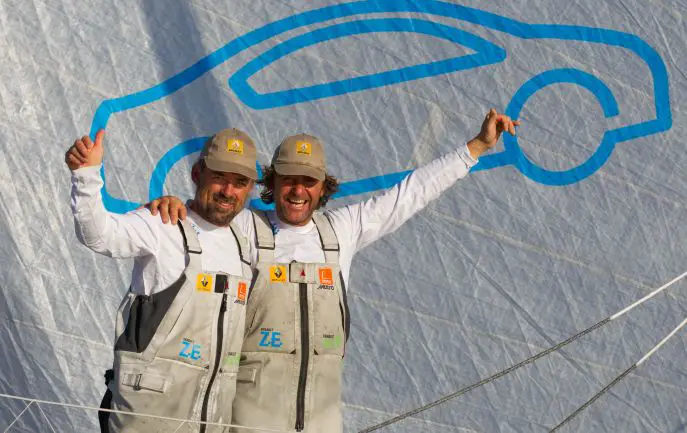 Ghosting across the windless finish line in the bright morning sunshine, making the final metres to complete their third placed by sheer willpower and motivation, Pachi Rivero and Toño Piris the childhood friends who met nearly 40 years ago as grommet surfers on the beaches of their native Santander, finalised the podium for this second edition of the Barcelona World Race.
As Rivero and Piris broke the finish line at 06h 47m 36s UTC this morning (08h 47m 36s Barcelona) the duo completed their non-stop circumnavigation in an elapsed time of 97d 18h 47m 36s for the 35,200 miles route. They had their Barcelona rivals Estrella Damm 150 miles behind. The Santander duo finished 2 days 21 hours 30 min 36 sec after second placed MAPFRE and 3 days 20h 27 min 36 sec after race winner Virbac Paprec 3.
Theirs is a popular, highly regarded result for a duo which has huge respect among their peers in the world of professional sailing, in which both have forged largely different courses. While they may have been friends since before they started to sail, this circumnavigation was the first time they had really raced together as a duo, and comes after only 14 months of preparation together.
Rivero completed the first edition of the Barcelona World Race in 99 days 12hrs 18 minutes after one stop in Wellington and has remained active in the IMOCA Class since then, but it was only a year past in December that he called his former sailing and surfing buddy, now an accomplished race-boat builder with two Whitbread Round the World Races and four America's Cups on his CV, to join him on an IMOCA 60.
But Piris had more or less retired from round the world racing, and had turned down at least one offer for the last Volvo Ocean Race, but – just as it was for MAPFRE Olympic duo Iker Martinez and Xabi Fernandez – the lure of taking on this unique challenge with a close, respected friend, Pachi, was too much to refuse. Though he did try:
"I said to him: 'Oh my god'…is there no one else? But I quickly said I would give it a go as it was him and here we are." Piris smiled today in the warm Spring sun.
Their third place is one built on the firm foundations of solid strategies, hard and fast sailing, sheer tenacity and durability, but especially being able to keep their 2007 generation Farr design, the former Gitana 80 continuously on the race course.
That feat alone tested both of their resources to the full.
Rivero's three years with the boat meant he knew every foible, every screw and every wire and could magic small repairs and stay on top of their routine maintenance, while Piris' boatbuilding skills were called into use at least once.
When both Estrella Damm and Groupe Bel were pit-stopped in Wellington, the duo finally fashioned a mainsail track repair – robbing and cannibalising screws and bolts from around the deck and hardware to make the crucial fix - and that allowed them to pass the New Zealand capital without the mandatory 48 hours minimum, and on into the Pacific.
Closer to the finish, passing Madeira only a few days from Gibraltar, a major four metres mainsail leech tear when the fibres appeared to separate, overloaded as a weather front went through required every last piece of repair cloth, tape and sikaflex, to keep them up to speed and hold off Estrella Damm.
Their first two weeks of their Barcelona World Race were something of an acid test for their partnership and their challenge. A wrong choice, holding east to the Balearics within the first 150 miles of racing had them in 12th place 105 miles behind when the leaders emerged from Gibraltar, compounding their error when they went to the Spanish coast in the Straits.
But the duo – each 47 years young - stuck to their guns and progressively picked boats off in the fast trade winds sailing, and getting to within 17 miles of sixth placed MAPFRE by the mid Brasilian latitudes. In the Big South, they sailed a mature race of fast sailing when they needed it most, but making sure they did not endanger the boat or themselves.
Pressed by Estrella Damm up the Atlantic, twice Rivero and Piris were beautifully precise at two potentially sticky moments, key transitions which needed intense periods of sail changing and gear changing in light, fickle winds, but which allowed them to press away from the advances of their near sister-ship.
"For me the best moment was yesterday. When we finally knew that third place should be ours and we would finish with a good position. We had wanted it for so long, and kept it for half the world, and there we realised we would not lose it. It was a special time."Recalled Piris this morning, minutes after crossing the finish line off the Catalan capital which is the base for the Fundació Navegació Oceánica's IMOCA Open 60's of which Renault Z.E Sailing Team finishes third and their Estrella Damm is on course to finish fourth. So Spanish boats take three of the top four positions in this second edition of the race.
But just as MAPFRE's second placed Iker Martinez and Xabi Fernandez duo were set on the right fast track course last spring by double Vendée Globe winner Michel Desjoyeaux, it was a resourcefulness and mindset which Rivero learned from the legendary French skipper Yves Parlier during their 2009 Transat Jacques Vabre transatlantic which has been one of the keys to keeping going in this race, and not having to stop. Rivero saw how Parlier was meticulous in constantly checking every part of the boat, registering every small repair and completing them as they went. Being able to adapt other materials or hardware to replace or repair key equipment is what kept Renault Z.E non-stop at Wellington. An e-mail from project manager Jaime Arbones saying 'remember Parlier' was enough to spark their innovative thinking. And so:
"The Parlier spirit is with us today." Rivero said on 19th February as they approached the Cook Strait.
And Piris, in turn, continually marveled at his partner's 'MacGuyver' ability to keep the boat in the best state of repair.
" He is amazing. I don't remember him getting out of the bunk ever without a list of things to repair."
" He knows every piece of the boat perfectly, the electronics, I see him putting his hands everywhere and I think Oh My God what is he doing now, but no, no, he is fixing things. In these three years that Pachi has been in the class he has learned the hard way.
It is not an easy boat, he also had it as Estrella Damm with Yves Parlier and he has done all the refits and been involved with all of them, so all these horrible things that he had to do they have paid incredibly.
There was, like one time, when there was water coming into the engine and I was worried, but Pachi put his hand in and said, 'I know what it is and fixed it.' There were situations where I went into panic, but he was calm and knew what had to be done. It has been a real MacGuyver race."
"At the beginning, when we set out together my measure of how bad things were was always to look at Pachi's face and I could tell. Now I think he looks at mine, so that is where we have got to!" said Piris.
Quotes:(more quotes on www.barcelonaworldrace.org)
Toño Piris:
" It went beautifully. That was one of the things that we know, we have known each other since we were kids, and it has been fantastic to rejoin him for this project. But it has been surprising for me to see how much he has grown since he has been in this class. It is a class you really have to be very sharp in, to be ready to repair things. You are not just sailing but MacGuyver-ing, fixing things as you go, and in that area and in that way Pachi really surprised me in the best possible way. I think one of the other things is having friends and family in common has been great. So every mail that we received from Pachi's family or friends has also been for me, and from my family has been for him. And from the same club there is a lot of support, but all coming from the same places.
The mainsail repair was when a front came through with a bit of sail up and we luffed, we rolled the A3 but a big shift came and the waves came against us. We needed a quick gybe and it was raining and we waited until the wind dropped from 30 to 21kts, gybed with just the main and the main filled on the other side and the fibres separated. The leech, to four metres in, went and we really thought that our third was over. But, again, MacGuyver and he said immediately he just had a coffee, said –right we need to repair this – and I thought it was unrepairable – but we got it done.
Between he and I, he is the optimist and I am the pessimist. I suppose I will be pessimistic the rest of my life, but I have learned not to be."
Pachi Rivero "It's an honour to be able to complete the circumnavigation without stopping and to finish on this podium. I want to congratulate the first two boats. Ours is a result that makes us very happy. We're back without stopping, with the whole boat and being on the podium. The secret is that we are a great team with a shore crew that have always supported us and have been behind us at all times so that we can complete the round the world without stopping."
"It has been an accomplishment to finish this race, we were afraid until this morning. It has been a great experience with Toño, we have lived everything together the hard times of the start and the Med, and the fantastic finish together today, all the bad moments we talked about and all the good times we shared, and this is what it has brought us, third place.
"This time we had a better, faster boat, with more power a bit more difficult to sail but with Toño we have lived a lot more together. We had no watch system, we did not do watches. We were just on the deck together and decision we took together: 'what do we do? We put this sail up or this one? So it was a Murphy system? We have been resting when we could, sleeping when we needed to only."
Stats, Renault Z.E Sailing Team:
Elapsed Time: 97 days 18 hours 47 mins 36 secs
Theoretical course 25,200 miles average speed is 10.79kts
Real course sailed 28, 554 miles average speed is 12.17 kts