More Barcelona World Race Articles
Day 110 One Final Investment in the East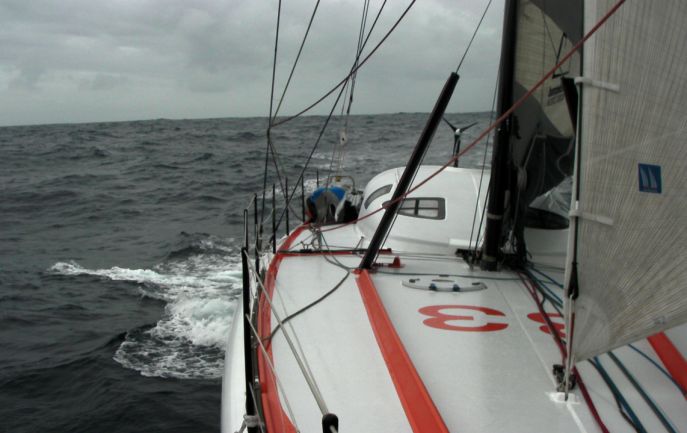 Hugo Boss were pushing east this Wednesday afternoon investing in a route which took them some 20 miles off the Algerian coast where Wouter Verbraak and Andy Meiklejohn were intent on making their final 280 miles to Barcelona on something close to one long, brisk reach to finish their Barcelona World Race tomorrow night in seventh place.
"If you look at where the guys where way back when they passed out of Gibraltar and just after that, and said to us then they would be seventh I'd have taken it there and then, and here we are. Andy and Wouter have done a really great job getting to where they have and hats off to them for that. When you consider what even the first two weeks must have been like, there are many, many things that only I know how to do on the boat, practical things and I was not even around really to help them with that, so overall I think they have done really well."Said Hugo Boss' 'usual' skipper Alex Thomson this evening.
While the Hugo Boss duo have taken every chance to get east fast to set up for what promises to be a brisk sprint finish, in gusty, strong ENE'lies and NE'lies which could top the high 20's knots at Thursday evening's finish off Barcelona, the FMC duo Gerard Marin and Ludovic Aglaor were pinned closer to the Spanish coast, close to Almeria with the Levant easterly due to build for them, and a low pressure off Algeria due to track NE, their final miles to Barcelona look set to be all the tougher, upwind on the west side of the low. While Hugo Boss is due in to Barcelona middle of Thursday evening it looks like FMC will take eighth place some 24 hours or more later.
In essence though the catch up for Marin and Aglaor – making more than 600 miles in six days – just redresses their losses in the South Atlantic to Hugo Boss, who left their Falklands stopover with lead of 120 miles on FMC who became mired on the South American coast in light upwind conditions for several days.
Speaking on today's live Visio-Conference with Barcelona Marin, speaking with Anna Corbella said:
"I have reserves of stamina and drive still to come, but I'm counting the hours. Here, now it feels kind of like started yesterday but then you realise it's already been four months and here we are going back home. I really want to be there and share the magic moments with you all. "
"We are quite tight on food, I still have some things but as usual ..., the good things are finished and I have the things I don't like left. But I have one dessert left but on Friday I hope I can eat the "buñuelos" (typical Easter pastry) that someone will bring me. A tortilla (potato omelette) would not be bad either. I miss homemade food a lot... I'm a bit tired of so much freeze dried and dehydrated stuff."
"This thing of going to the gym two days after finishing?....Well, we will have to negotiate I think that three or four days of holiday are in order first. Okay, I did notice that my body is not working very much and you lose a lot of muscle tone but that was more or less clear before leaving, but in two or three months it will be like before ".
"We're doing 11 knots on course 60. Up the course we have 20 knots of wind and we are more or less 50 miles from Cabo de Gata. I believe that in 5-6 hours we can be there. Let's see if the Levante holds a few hours more. "
"The navigation routing says we will arrive on Friday at 4 am, but for sure we'll be delayed. If we arrive during the day on Friday ... I'd take that immediately, where do I sign!! "
"We've really had a relatively easy passage through Gibraltar. We went in with Levante that shifted to the stern until half the Strait and then went forward and we sailed more in the south of the Strait, off the merchants channel. It was pretty easy, all the crossing of the Straits to Cabo de Gata. It is always stressful because the merchants are all lined up and go very fast, but this aspect it was easier than when we left. "
" The last few days have been very good. The last four days before Gibraltar we were reaching pretty fast, it was a very good farewell to the Atlantic. The last surfs of 20 knots were great. And now we have a Mediterranean that seems to be OK. Easterly wind and if in two days we are in Barcelona it will be just great."
"The forecast says the wind will go up 25 to 35 knots this evening. Let's see if it's true. At first it will be levante, hopefully we will have an upwind a bit more open to Cabo de Palos. It can be fast and from the Nao and Ibiza it will drop again with a direct reach so it will be very quick. But in the Mediterranean you never know, things change fast. "
"With Ludovic we had some intense days but I learned many things from him because he spent many years sailing and that's always such a big plus. Yes, there has been tension and hard times, as in all professional and amateur relationships, but the outcome for me is a very positive one"
"To finish a round the world race is something to always celebrate. It is always an important moment and we must enjoy it. "
"The comeback has been so intense, every day we saw him closer. But you have to be realistic. In the same way they got away 600 miles on the Falklands with a different system and with more pressure, in this case it is reversed. With a depression and downwind we were able to recover what they took in two days. "