More Barcelona World Race Articles
Day 92 Scotched and Scorched
Virbac-Paprec 3 becalmed off Cartagena, slow progress for Dick and Peyron

MAPFRE passes Gibraltar

We Are Water racing to beat winter in the South Atlantic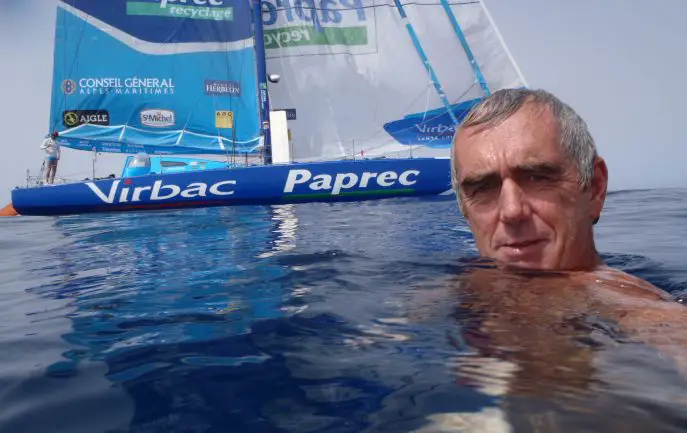 Jean-Pierre Dick and Loïck Peyron may be on track to win the second edition of the Barcelona World Race but the French duo this afternoon were experiencing the other extreme of the Mediterranean in Spring.
Only hours after slamming upwind through the Straits of Gibraltar and the Alboran Sea in a combination of sea and wind conditions which were considered by the skippers, and – from a distance – the co-designer of the successful IMOCA Open 60 – as potentially boat damaging.
"I have to say I was a bit stressed by the weather yesterday, and so were they apparently. It was perfect for breaking the boat at the last moment and that would have been so unfair." Commented Guillaume Verdier, of the partnership between VPLP/Verdier which designed the Virbac-Paprec 3.
On what should be their penultimate afternoon together on board, with some 265 miles to go to the finish, in place of Friday's final gale and the short slamming seas was an almost millpond like calm, gently slatting sails and fierce, warm sunshine. Some forty miles off Murcia's Cartagena were truly scotched, or double scotched, stuck to the sea, polled at 0.4 of a knot ('almost backwards according to Peyron).
The new sixty foot 24 hour world speed record holders made a sedentary 3.3 miles over the five hours to 1400hrs UTC this afternoon. Winning is as much about being able to cope with the extremes. With a lead of 217 miles over second placed MAPFRE and 263.4 miles to the finish Peyron – who should be in the throes of winning his first round the world race – took a cooling swim in the Med.
Virbac-Paprec 3 are expected in Barcelona between 1800hrs Sunday night and 0700hrs Monday morning.
Of his second Barcelona World Race Dick said: "The competition was tougher this time with a rival from the start in Foncia and then starting from New Zealand we tussled with MAPFRE and with them through to the end. This race was more difficult, I think. I had the feeling we could be beaten at any times. In the Indian we were isolated a little bit. As for the course it had changed a bit. What changed are the safety gates for the ice which were a bit high. And that changed the complexion of the race. The weather was warm in the Indian.
Loïck was bare chested at the helm at in the South at 46 deg S, with Damian we went down to 54 deg S. And the other difference was the presence of Loïck. Between the Latin character of Loïck and the Anglo-Saxon of Damian there are obviously differences, though both are very cool. They are two beautiful experiences."
In fact it seems likely that the duo will still be struggling in light winds this evening when the race record of 92 days and 9 hours, which was set by Dick and Damian Foxall, passes around 1900hrs UTC. Other than the aggregate 66 hours which Virbac-Paprec 3 was stopped by technical issues in Recife and Wellington, the theoretical course for this second edition is 520 miles longer.
Second placed MAPFRE passed the longitude of Gibraltar at 0740hrs this morning ready to experience their own slow-down as they approached light winds in the Alboran Sea, but despite the close to ideal course and speed made today by Renault Z.E Sailing Team which has held third place since passing Wellington on 21st February , Pachi Rivero and Toño Piris remain 728 miles behind the Spanish Olympic medallists.
We Are Water's Jaume Mumbru recalled some of the We Are Water's more difficult moments, and the high point of their race so far as they point north, trying as best they can to escape the rapid onset of winter in the south. After completing their boom repair in Ushuaia, they were trapped for an extra 11 hours as the port was closed by a big storm.
Mumbru said: You can see snow everywhere. So now we are going north as fast as possible because the winter is coming fast and we need to get out of here as soon as possible. The people in Ushuaia helped a lot and were very warm hearted.
Passing Cape Horn was a magical moment. We will remember it for a long time. It was unreal in the end. In the middle of a big storm the clouds opened and the Cape appeared and it was the high point of our trip so far, even more so with the difficulties we have had and the last 900 miles of it without a boom. When it was like that we were wondering if we could get past the Cape or not. So now at least it feels like we are going home and we feel like we can get home. It was such an amazing moment, like a novel, in those conditions it was just unreal. We have not finished yet but it was an amazing moment."
LIVE COVERAGE OF THE FINISH OF THE FIRST BOAT INTO BARCELONA WILL BEGIN AT +30 MINS BEFORE THE FINISH LINE.
Standings of Saturday 2nd April at 1400hrs UTC
1 VIRBAC-PAPREC 263 miles to finish
2 MAPFRE + 219 miles to leader
3 RENAULT Z.E at + 946 miles to leader
4 ESTRELLA DAMM Sailing Team at + 1139 miles to leader
5 NEUTROGENA at + 1343 miles to leader
6 GAES CENTROS AUDITIVOS at + 1934 miles to leader
7 HUGO BOSS at + 3055 miles to leader
8 FORUM MARITIM CATALA at + 3819 miles to leader
9 WE ARE WATER at + 6421 miles to leader
10 CENTRAL LECHERA ASTURIANA at + 10515 miles to leader
RTD FONCIA
RTD PRESIDENT
RTD GROUPE BEL
RTD MIRABAUD
Damian Foxall (IRL)– winner of the 2007-8 Barcelona World Race with Jean Pierre Dick:
"Jean-Pierre is, I would say, a very underestimated sailor. He's obviously now engraved his mark on the doublehanded racing in the IMOCA class, with hopefully a second Barcelona win, if all goes well. He's previously won the Jacques Vabre with Loick and on a couple of occasions. He's a very intense individual in a quiet way, and sets the goals very high, especially when you're sailing with him doublehanded. He's physically and mentally very strong so I think that's part of his strong points – doublehanded for example he's got the tenacity and the endurance to push probably harder than a lot of the other competitors out there. And it's just been great to see that the boat has held up most of the way and they've been able to repair what's gone wrong in an efficient way and most impressively, to come back out to gain back the miles they've lost. He's a fantastic person to sail with, you really feel like you're in the depth of it and you're doing 110 per cent, and at the end of the race you don't feel like you could've done this better or that better. You know I felt like I'd given my very, very best in the last edition and I'm sure they'll have the same feeling now as they come into Barcelona, I think they've had a fantastic race."
Loïck Peyron (FRA) Virbac-Paprec 3: "We are in the Bay off Cartagena, the sea is almost flat and there is not very much wind, but even just a few hours ago we still had some sea running. But even so you could not say that we are getting better, going quicker, whereas until recently we were still slamming and crashing. Even last night at Cabo de Gata it was still slamming. In the Mediterranean you never quite know what will happen next. We should finish upwind in light winds. But before we might almost be going backwards. We don't actually get that much closer to the finish, we deviate a bit.
The boat is lighter, with the ballasts empty. We try and make the boat lean over on a good side.
We had a fluorescence spill from back of the boat, we had an orange wake. It was the powder which you can set off if there as man overboard. It is held in a sachet part of the man overboard kit, and it seems like it could not complete it to the end of the circumnavigation. But it looked very effective indeed, it was a bit of s shock how far and quickly it spread.
I am a bit short on reading matter. As a concession to weight I only took two volumes of Patrick O'Brian's Jack Aubrey tales, by chance they are sea stories. My friend Jean-Pierre on the other hand took along two SAS thrillers which I devoured in a night. I also took a couple of E-books. But we spent some evenings in the Cine Club. I took along a little hard drive with some films for some of the night watches: The last was Into the Wild which I recommend warmly.
Half an hour ago I watched once again Laughter and Punishment with Jose Garcia, but L'Auberge Espagnole, Russian Dolls (Les Poupées Russes)' and the Big Blue, (Le Grand Bleu). The Big Blond has watched the Big Blue."
Jean-Pierre Dick (FRA) Virbac-Paprec 3: "The competition was tougher this time with a rival from the start in Foncia and then starting from New Zealand we tussled with MAPFRE and with them through to the end. This race was more difficult, I think. I had the feeling we could be beaten at any times. In the Indian we were isolated a little bit. As for the course it had changed a bit. What changed are the safety gates for the ice which were a bit high. And that changed the complexion of the race. The weather was warm in the Indian. Loïck was bare chested at the helm at in the South at 46 deg S, With Damian we went down to 54 deg S. And the other difference was the presence of Loïck. Between the Latin character of Loïck and the Anglo-Saxon of Damian there are obviously differences, though both are very cool. They are two beautiful experiences."
"The secret of this relationship was mutual respect and listening to each other I think this was essential.
What is fascinating about the Barcelona World Race is that you progress because of the other of his looking at you and the interchange between both. In a vendee you remain in yourself in your story and when you are two there is much more of an internal evolution."
Jaume Mumbru(ESP) We Are Water: "The repair is good and we worked hard on it so we are very happy and I hope the boom holds together. The port of Ushuaia closed an hour before we wanted to leave because of a storm and so we were stuck there for eleven hours. So now we are going north as fast as possible because the winter is coming fast and we need to get out of here as soon as possible. You can see snow everywhere. The people in Ushuaia helped a lot and were very warm hearted.
Passing Cape Horn was a magical moment. We will remember it for a long time. It was unreal in the end. In the middle of a big storm the clouds opened and the Cape appeared and it was the high point of our trip so far, even more so with the difficulties we have had and the last 900 miles of it without a boom. When it was like that we were wondering if we could get past the Cape or not. So now at least it feels like we are going home and we feel like we can get home. It was such an amazing moment, like a novel, in those conditions it was just unreal. We have not finished yet but it was an amazing moment."