More Barcelona World Race Articles
Day 109 Thursday evening finish for Hugo Boss
FMC less than 24 hours behind after big catch up

We Are Water in Doldrums, gust to 47kts!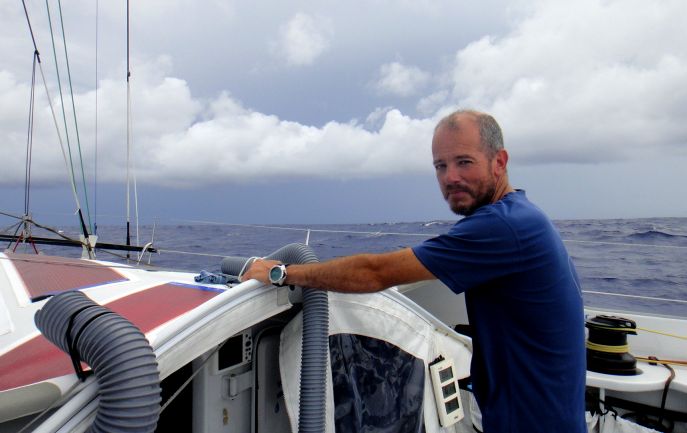 After passing Gibraltar last night at 2115hrs UTC Hugo Boss are setting into the western Alboran and progressing at around 9 knots into the decreasing Levante easterly wind, just approaching the longitude of Malaga.
The winds from the Easterly quadrant will continue for Hugo Boss, taking them all the way up to the line in front of Barcelona's W-Hotel where they are now predicted to be finishing around 1800hrs-2000hrs UTC on Thursday.
For FMC the rapid ride stops just shy of the Straits with an awkward transition from the SW'ly that they have been approaching at speed to the Easterly and so they may choose to stay north, towards the Gulf of Cadiz and towards Cabo Trafalgar so that they keep the breeze and avoid the most disorganised transition zone. But in theory by here the distance between the two will be at its lowest – as the seagull flies – perhaps as low as 150 miles or so. They will be continuing to make 14-15 knots for much of today and for Hugo Boss it is more of the order of 8.5-9.5 still upwind. But French-Catalan duo will take considerable heart from their substantial gains – the biggest of the race – their low pressure sprint gifting them more than 700 miles of comeback. On April 4th Forum Maritm Catala were 880 miles behind Hugo Boss and on 14th April 700 miles behind.
As the Levante builds again, strengthening because of the circulation of the low over the Algerian coast, through tonight and tomorrow, so then it becomes difficult for FMC. Gerard Marin and Ludovic Aglaor will be heading into strong Easterlies, building from 20-25kts to up to 35kts at times tomorrow with those awkward wind against current waves which this area is notorious for. But after clearing Cabo Gata Hugo Boss will have no further meteo hurdles between them and the finish. Their routing shows some advantage to pushing east and getting a more consistent breeze on one tack all the way north, passing between Ibiza and Mallorca, but Andy and Wouter may choose to be a little more conservative and stay closer to the Spanish coast.
So we can expect to see some continued compression between FMC and Hugo Boss today but the prediction is for FMC to be arriving Barcelona around 1400hrs UTC Friday, ample time for Gerard Marin to find a Saint Jordi's day rose for his sweetheart!
We Are Waterare into the Doldrums activity, stop-go-stop due to the active cloud pattern. Their recent speeds have already shown this 10-11kts for a period, then sudden shutdowns to 3-4 knots. Their Doldrums look to be another 32-36 hours of fairly intense activity, as Jaume Mumbru reported on this morning's Visio-Conference with Barcelona.
Jaume Mumbru (ESP) We Are Water:"We are in the middle of the Doldrums and we are just taking ir mile by mile, hour by hour in the northerly direction picking our way between clouds, rain shower by rain shower. That means a lot of work. The intensity of these rain showers and the clouds is very variable. And so we are really looking forwards to being in the northern hemisphere. But we still have a protracted fight with these calms, and it is very unstable with these giant clouds.
We are trying just not to get suck under any of them. It is difficult because you can't necessarily go in the direction you want to, even if we are always looking from the wind from ahead or from behind. We are just working to keep pushing, pushing, pushing. In theory, on paper, it looks easy but in practise it is not. For the last couple of days the actual weather we have had does not tie to the models, neither the European nor the American models. In fact we should have 15 knots from the East and we have already had a consistent 40 knots and a gust of 47 knots. It was really spectacular. But we are quite lucky as we saw it and were sailing properly. In these latitudes it is not really normal yet to see such a big jump in winds.
But we are in a stormy area, it is very active, changing all the time and so we are just trying to keep eating miles and latitude.
Since the repair of the boom we still sail in the same way. We just keep an eye on it and make sure it is still sound. There is no sense in really attacking to hard because we are relatively isolated from the race here, so we sail fast but we sail safely.
We are suffering a bit with only one daggerboard, that means we cannot sail the same angles as the other newer IMOCA Open 60's. We are usually at least 15 degrees lower, it is a big handicap especially looking ahead to the tradewinds.
It is already 110 days at sea and now we have calms so we are just going to keep at it. Of course the Northern Hemisphere is our next objective, getting in to spring."