Seafood Preparation -
Tips for Identifying Fresh Fish & Seafood
When preparing your fish and seafood for recipes, below are some useful tips and information that make life easier!
Tips on Identifying Fresh Fish:
* Fresh fish have plump, bright eyes. If the eyes are glazed or dull and sunken, the fish is not fresh.
* If a fish is gutted, the blood along the backbone should be brightly coloured, if it's not the fish is not fresh.
* A strong "fishy" odor is another indication that the fish is not fresh. The smell should be fresh and pleasant. Spoiled fish has a strong, unpleasant ammonia-like smell that you will quickly recognise.
* If you have frozen fish, once thawed you should use it within 24 hours - 48 at the most. Do not refreeze fish.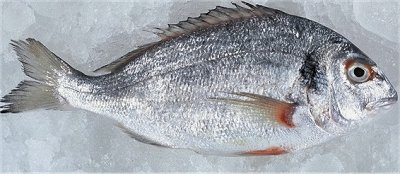 Picture of a fresh whole fish. Notice the bright eyes- this is a very good indication of the freshness of whole fish. The longer the fish have been dead, the more the eyes are glazed, opaque, dull or sunken.
How to tell if fish fillets are fresh:
Fish fillets and steaks should have firm, elastic flesh and a fresh-cut, moist appearance, with no browning around the edges. Fillets separate if they are left too long in the case. The flesh should be almost translucent – as if you can almost see through it. There should be little evidence of bruising or reddening of the flesh from retention of blood. Prepackaged steaks and fillets should contain a minimum of liquid. Fish fillets stored in liquid deteriorate quickly.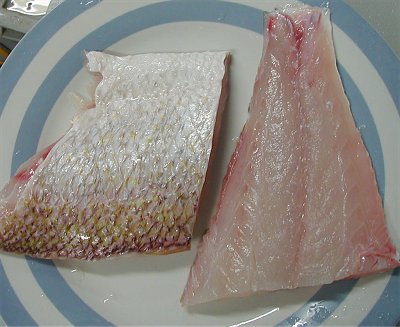 Fresh Red Snapper Fillets
Scallops are not usually sold live because they are highly perishable. Typically scallops are shucked at sea shortly after capture. On occasion, day boats will bring whole scallops to market or local restaurants. Fresh scallop meats have a firm texture and a distinctly sweet odor. A sour or iodine smell indicates spoilage. The smaller bay and calico scallops are usually creamy white, although there may be some normal light tan or pink coloration. The larger sea scallops are also generally creamy white, although they may show some normal light orange or pink color.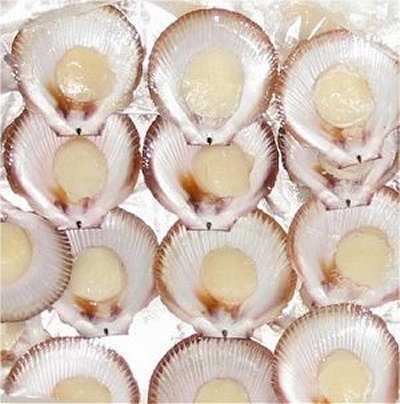 Fresh Scallops on Shell


Live crabs and lobsters should show leg movement, and the tail of lobsters should curl tightly underneath the body and not hang down when the lobster is picked up. Lobsters and crabs will not be very active if they have been refrigerated, but they should move at least a little bit.
Cooked lobsters, crabs, slipper lobsters or bugs in the shell should be bright red and have no disagreeable odor. Picked lobster meat will be snowy white with red tints, while crab meat is white with red or brown tints, depending on the species or the section of the body it was picked from.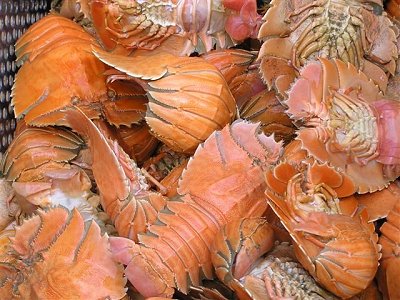 Fresh Cooked Moreton Bay Bugs or Slipper Lobsters
Cooked, picked lobster or crab meat should have good color and no disagreeable odor.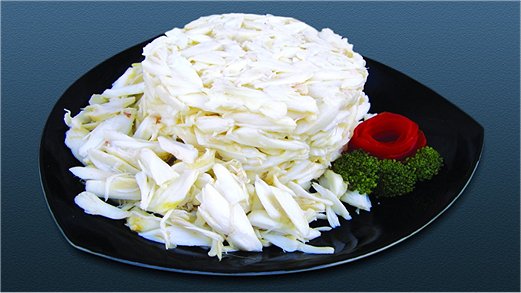 Fresh Cooked Crab Meat


Prawns | Shrimps | Raw shrimp meat should be firm and have a mild odor. The shells of most varieties are translucent with a grayish green, pinkish tan, or light pink tint. The shells should not have blackened edges or black spots – this is a sign of quality loss. Cooked shrimp meat should be firm and have no disagreeable odor. The color of the meat should be white with red or pink tints. Tiger shrimp have bluish colored shells with black lines between the segments of the shell (these are not black spots). The photos below show fresh green (raw) prawns or shrimp and freshly cooked prawns shrimp.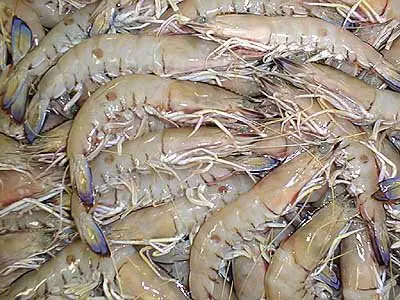 Fresh green (raw) King Prawns - Very Fresh whole Shrimp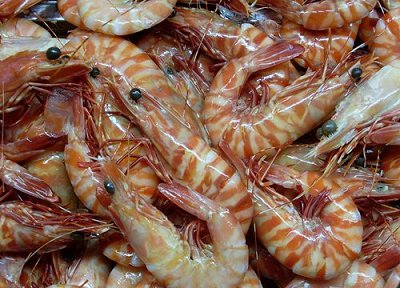 Fresh Cooked Tiger Prawns | Freshly cooked Tiger Shrimp


Whole squid should have eyes that are clear and full, and the skin should be un-torn and the meat very firm. The skin of fresh squid is cream colored with reddish brown spots. As squid ages, the skin turns pinkish and the flesh will yellow.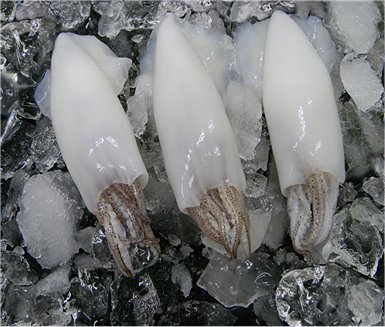 Fresh, cleaned Squid
Great Fish Recipes - From How To Cook Fish.info
Fish & Seafood Recipe Videos - How to cook & clean abalone, sea bass with pepper sauce, Kentucky fried catfish, miso glazed barramundi, rock oysters with caviar, linguini with white clam sauce, Wild Alaska Tamarind Cod, Jamaican codfish cakes, lobster, scallops, mahi recipes and more
More information: Seafood Health Facts: Making Smart Choices - A joint project of Oregon State University, Cornell University, the Universities of Delaware, Rhode Island, Florida & California and the Community Seafood Initiative.