Method: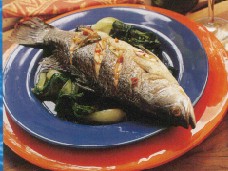 Combine all sauce ingredients and set aside to infuse.
With a sharp knife, make 2-3 deep slashes in each side of Barramundi.
Place on foil under preheated grill (can also be barbequed or baked) and cook for 3-4 minutes on each side or until flesh just flakes. Do not overcook.
Meanwhile, steam Chinese vegetables and place on plates.
Top with Barramundi and spoon over sauce.
Serves 4