Method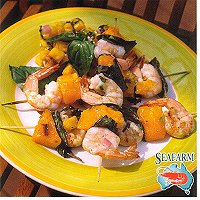 Soak bamboo kebab skewers in water for 15-20 minutes to prevent burning.
Thread prawns, paw paw and basil onto kebabs and place on a high sided dish.
Sprinkle with the juice and seasonings and refrigerate for 20-30 minutes.
Combine chutney ingredients and refrigerate until ready to use (This can be made the day before).
Heat a grill or barbecue and cook kebabs until prawns are just cooked (too long and they won't be as tender and moist).
Serve with the chutney spooned over or on the side and some crusty bread.
Makes 6-8 Kebabs