Directory & Info for Fishing, Angling, Fishing Tackle, Fishing Guides, Fly Fishing, Bass Fishing, Sports fishing, Game Fishing....
See >> Info on All types of Fishing | Angling | Tackle etc

Australian Fish Bag Limits and Size Regulations
Photos of Australian Seafood, Fish, Crustaceans & Cephalopods and Information on each....
Abalone, Blacklip
Albacore Tuna
Baler Shell
Barbounia, Tiny
Barracouta
Barramundi
Bass, Sea
Batfish
Batfish, Silver
Blackfish
Boarfish
Bonito Tuna
Bonito, Watson's Leaping
Bream
Bream, Butter
Bream, Slate
Bug, Moreton Bay (Slipper Lobster)
Bug, Balmain
Butterfish
Calamari, Southern
Carp, European
Catfish, Blue
Catfish, Lesser Salmon
Cockles
Cod, Bar
Cod, Blue eye
Cod, Coral Rock
Cod, Ghost
Cod, Maori
Cod, Murray
Cod, Southern Rock
Cod, Spotted
Cod, Tomato
Cod, Wirrah
Cod, Yellow Spotted
Coral Trout
Cowanyoung
Crab, Blue Swimmer
Crab, Champagne
Crab, Giant
Crab, Mud
Crab, Spanner
Crawfish
Cuttlefish
Dart Fish
Dolphin Fish
Dory, John
Dory, Mirror
Dory, Silver
Drummer, Southern
Eel, Longfin
Emperor, Red
Emperor, Red Throat
Flathead
Flounder, Small Toothed
Flutemouth, Rough
Frost Fish
Garfish
Gemfish
Goatfish
Grouper
Gurnard, Red
Gurnard, Spotted
Hairtail
Hump Headed Maori Wrasse
Hussar
Jackass Fish
Jacket, Ocean
Jacket, Sea
Jewfish
Jobfish, Gold Banned
Jobfish, Rosy
Kingfish, Yellowtail
Latchet Fish
Leatherjacket, Reef
Ling
Lobster - Eastern Rock
Lobster - Southern Rock
Long Tom
Luderick
Mackeral, Jack
Mackerel, Slimey
Mado
Mahi Mahi
Mangrove Jack
Marlin, Black
Marlin, Blue
Marlin, Striped
Melon Shell
Monkfish
Mono
Moon Fish
Morwong
Morwong, Red
Mullet - Roe
Mullet, Diamond Scale
Mullet, Red
Mullet, Sea
Mullet, Yelloweye
Mulloway
Mussels Black
Mussels Greenlip
Nanygai
Octopus
Orange Roughy
Oreo, Black
Oyster, Native
Oyster, Pacific
Oyster, Sydney Rock
Parrot Fish
Parrot Fish (2)
Perch, Ocean
Perch, Saddle Tail Sea
Perch, Silver
Perch, Splendid
Perch, Stripey Sea
Pig Fish
Pike
Pineapple Fish
Prawn, Banana
Prawn, King
Prawn, Red Spot
Prawn, School
Prawn, Tiger
Queenfish, Needleskin
Rainbow Runner
Redclaw Crayfish
Redfish
Ribaldo
Ribbon Fish
Rudder Fish
Salmon, Atlantic
Salmon, Australian
Scad
Scallops, Queensland
Scallops, Tasmanian
Scorpion Fish, Raggy
Shark
Shark Black Tip
Shark, Blue
Shark Bronze Whaler (Dusky)
Shark, Bull
Sharks Fins
Shark, Gummy
Shark, Mako
Shark, School
Shark, Tiger
Shark, Whiskery Reef
Shark, White
Shrimp, Mantis
Sicklefish
Silver Biddy
Snapper
Snapper, Big Eye
Snapper, Fry Pan
Snapper, Gold Band
Snapper, King
Snapper, Red
Snapper, Red Tropical
Sole
Sole, Tongue
Squid, Arrow
Squirrel Fish
Stargazer
Stingray, Butterfly
Stripey Sea Perch
Surgeonfish, Sixplate Sawtail
Sweetlip, Slatey
Sweetlip, Yellow
Swordfish
Tailor
Tarwhine
Tilefish, Pink
Trevally, Big Eye
Trevally, Golden
Trevally, Silver
Triple Tail
Trout
Trumpeter, Striped
Tuna, Albacore
Tuna, Bigeye
Tuna, Bluefin
Tuna, Longtail
Tuna, Skipjack
Tuna, Striped
Tuna, Mackerel
Tuna, Yellowfin
Venus Tusk Fish
Whiting, Sand
Whiting, School
Wrasse
Yabby, Freshwater Crayfish
Yellowtail
FULL LIST of Fish & Seafood
Beche De Mer
(Sea Cucumber - Trepang)
Amberfish
Blackfish
Black Teatfish
Brown Sandfish
Curryfish
Elephants Trunks fish
Greenfish
Lollyfish
Pinkfish
Prickly Redfish
Sandfish
Stonefish
Surf Redfish
White Teatfish
Commercial Seafood Directory
Sea-Ex Seafood, Fishing, Marine Directory
Aquaculture Directory
Seafood Trading Board
Commercial Fishing
Seafood Information by Country
Fish Photos & Fish Information
Interesting Fish Facts & Trivia
Country Directories
Thailand Business Directory
Seafood
Wholesale Seafood Suppliers Australia
Wholesale Seafood Suppliers International
Retail Seafood Sales
Seafood Restaurants
Seafood Recipes
Seafood Information
Seafood Industry Resources
Sea-Ex Seafood & Fishing Directory - Home Page
Cooking Balmain Bugs | Recipes Using Slipper Lobster
---
---
Cooking Balmain Bugs:
Cooking and Preparing Bugs (Slipper Lobsters)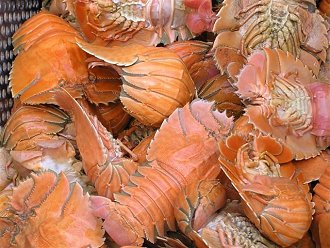 The meat of bugs, found only in the tail, has a medium-to-strong flavour. They can be bought as frozen meat or whole.

They are best prepared by poaching, steaming, barbecuing or grilling. As bugs provide good presentation and marry well with other seafood, they are excellent for cold seafood platters served with a light lemon mayonnaise, aioli or dill vinaigrette.

When cut down the centre lengthways, bugs will grill and barbecue beautifully over a high heat. They are superb served on their own, with the above-mentioned dressings or pesto, or as a warm salad with fresh asparagus and parmesan. To prevent discolouration of the flesh, sprinkle with a little lemon or lime.

The flesh of the bug is an ideal, flavoursome filling for meats, such as an alternative in carpetbag steak or with veal, asparagus and hollandaise (the veal oscar). Bug meat is also an appetising additive to fish cakes served with sweet chilli coriander.
To Buy
Sold whole, sometimes live (and frozen whole, tails and as meat). Look for brightly coloured, firm, intact, lustrous shells, without any discolouration, particularly at joints, and a pleasant fresh sea smell.

To Store
Wrap whole Bugs or meat in plastic wrap or place in an airtight container. Refrigerate for up to 3 days or freeze for up to 3 months below -18ºC.

To Cook
Average yield is 30%, the edible flesh is only in the tail and larger Bugs have a lower yield due to their head size. Has a medium-strong flavour (more 'fishy' than Moreton Bay Bugs), low oiliness and dry, firm flesh. To remove meat from shells, either split Bug lengthwise, or, to keep meat in one piece, remove head, turn tail over and cut down either side of the tail using kitchen scissors, peel underside of tail back and remove meat. Do not recook cooked Bugs, eat cold in salads or with a dipping sauce. The most humane, and easiest, method of killing any crustacean is to chill it in the freezer for about 45 minutes until it becomes insensible (but not long enough to freeze it). Once chilled, it should be killed promptly by splitting in half or dropping into rapidly boiling water. See www.rspca.org.au for more details.

Cooking Methods
Steam, poach, deep-fry, pan-fry, stir-fry, grill, barbecue. Excellent cold as part of a seafood platter. To BBQ, cut in half lengthwise and cook in the shell. The firm flesh holds together well in soups, curries and casseroles and can be cubed for kebabs.
---
See Also:
Balmain Bug (Ibacus peronii) Photographs and Information
Cooking Balmain Bugs | Recipes Using Slipper Lobster
Commercial Fishery for Balmain Bug (Ibacus peronii)