Angling for Australian Salmon or Kahawai:
Australian Salmon have moderately rounded, elongated bodies. Their dorsal fin is much longer than the anal fin and has 9 spines and 15-19 rays. Their caudal fin is forked. Australian Salmon are olive green to steel blue with small dark spots on the back and upper sides, and pale yellow-green to silvery white below. The pectoral fins are bright yellow. Juveniles are silvery white with several rods of large golden or brown spots on the back and sides.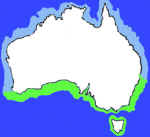 Australian Salmon are endemic to the Australasian region, and inhabit southern Australian waters and also Lord Howe and Norfolk Islands, the north and south islands of New Zealand and the Kermadec Islands.
They live in continental shelf waters and are also found in estuaries, bays and inlets. They school in shallow, open coastal waters and can move over reefs in depths just sufficient to cover their bodies. Juvenile Australian Salmon are found over soft substrates in shallow and sheltered coastal waters. They are often found over seagrass beds and in mangrove-lined creeks. They can tolerate temperature and salinity extremes, such as those found in the gulfs in South Australia and the Coorong. Larger fish move into exposed coastal waters such as around rocky headlands near reefs and the surf zone.
Australian Salmon are taken by recreational anglers. They are especially popular with beach and rock anglers. They are targeted by shoreline and boat based trolling. The most common method is the use of pilchard bait on 'ganged' (linked) hooks. Metal lures also work well.
They are opportunistic feeders and they feed on crustaceans and small fish, pilchards, anchovies, tommy ruff, southern sea garfish and calamari, squid and polychaete worms.

Salmon are commonly taken on baits of cut fish flesh, whole pilchards and garfish on ganged hooks, bottle squid or squid pieces, prawns, beach worms and pipis.
They are highly prized by anglers and commercial fishermen. Large concentrations of feeding birds often indicate the presence of kahawai, which go into surface feeding frenzies similar to those of bluefish (tailor). They feed actively on anchovies and other small fish and can be caught on these or on fast moving lures. On light tackle, the kahawai is a very sporting catch and will leap repeatedly. It is also ideally suited to fly fishing
They will also occasionally take crabs, cunjevoi or even bread, particularly in a berley trail. Larger specimens will take live yellowtail or mullet baits.
They prefer lightly-weighted or moving baits rather than those anchored to the bottom. Salmon are also avid lure and fly takers.
They succumb to cast and retrieved or trolled metal slices, lead slugs, spoons, spinners, jigs, minnows, plugs, poppers, and streamer flies. Because of their habit of jumping and shaking their heads when hooked, many salmon hooked on lures are lost.
Migrating schools of Australian salmon are preyed on by whaler sharks, white pointer sharks, grey nurse sharks, dolphins and occasionally seals.
Current Australian Salmon (Kahawai) All Tackle Record (IGFA) 19 lbs. 4 ounces.
Saltwater Fish - What bait to use for fishing - a list of saltwater baits with the main "diners" who will be tempted.
---
See Also:
Australian Salmon (Arripis trutta) Photographs and Information
Catching & Fishing for Australian Salmon (Arripis trutta)
Cooking Australian Salmon | Recipes for Kahawai
Commercial Fishery Australian Salmon (Arripis trutta) | Trading Kahawai
Australian Salmon (Arripis trutta) Links & Resources